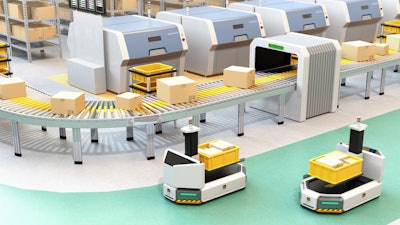 Skyrocketing growth in e-commerce and escalating consumer demand is putting tremendous strain on fulfillment operations and distribution centers. Luckily, recent advances in robotics and automation have helped relieve some of the pressure.
In fact, forward-thinking operators have already begun down the path to dark warehouses.
A dark warehouse is a fully connected, automated and autonomous facility that runs with no human intervention other than maintenance and optimization. Its well-orchestrated combination of planning tools, robotics, automation systems, sophisticated sensors and software can help operations achieve efficiency, productivity and safety in their facility while also creating sustainable practices through reduced power consumption.
Because these systems can run at one temperature throughout the year, they don't require additional heating in the winter or cooling in the summer for human workers. These systems can also operate 24/7 year-round without lights, helping energy-inefficient operations begin their sustainability journey.
Though we are still a few years away from realizing the full potential of dark warehouses, operators are installing key pieces of automation and robotics technology one-by-one, and integrating them with backbone software like warehouse management and execution systems.
The trend toward dark warehouses is primarily driven by two factors – advances in automation and a decline in available workers. Labor is typically a warehouse's largest operating expense, consuming up to 70 percent of the average company's warehousing budget, HR software provider Paycor has reported. On top of that, 73 percent of warehouse operators say they can't find enough workers. Two other challenges warehouses now face are today's less-predictable supply chain and rapidly shifting consumer behavior. All these influences make it necessary for warehouse operators to become more efficient now, with an eye toward implementing dark warehouses in the future.
The Power of the Dark Side
Robotics won't be replacing people so much as improving their workplace conditions. Many of the jobs that automation is replacing are strenuous, high-turnover roles. When these roles are filled by automated technology, it frees up the limited labor available to do higher-level and more rewarding tasks.
For example, few warehouse jobs are more arduous, repetitive and subject to higher turnover than manually unloading freight on the receiving dock. This work is oftentimes uncomfortably warm during summer months and uncomfortably cold during winter, and the need to maintain consistent human staffing and performance on the dock can stretch operations.
Advanced machine learning enables solutions like robotic unloaders to unload trucks, trailers and shipping containers autonomously. These robotic unloaders use advanced vision-guided robotic technology, machine learning-based decision-making and sophisticated AI, combined with integrated sensors, controls and conveyors, to automate the freight-unloading process.
Using the combination of a vacuum arm and a conveyor sweep system, these systems are capable of handling diverse case sizes and weights, even from trailers that have not been loaded with robots in mind. Products are discharged in a semi-singulated flow, which improves the efficiency of downstream processes. No fleet modifications are required. Advanced machine learning enables the robot to work faster, handle products with greater care and improve its own performance over time.
Another key piece of every future dark warehouse will be smart, automated depalletizers that utilize machine learning and AI to break down pallets as goods enter the warehouse. This technology removes goods of all sizes from pallets and can send them down a conveyor. Sometimes pallets shift around in trailers and become unstable – due to the smart tech, the robot can accurately pick up goods every single time.
Also essential to any dark warehouse are autonomous mobile robots (AMRs). These are highly reliable, self-directed robots that can manage the flow of materials and products throughout an industrial facility. Leveraging a variety of cameras and sensors, AMRs create a digital map of the warehouse environment, enabling them to move around freely. AMRs are ideal for performing repetitive, complex, and potentially hazardous tasks. Already, they are having a dramatic impact on warehouse work, helping to increase fulfillment speeds, lower labor costs, boost efficiency and eliminate errors.
Software is the key piece that ties all this technology together and helps orchestrate it. Though much of the physical technology already ties nicely into warehouse management and warehouse execution software, more work is needed to make every robot and automation system interoperable and coordinated at a level of completely autonomous operation.
Together, these robotic solutions, combined with software integration, help customers alleviate skilled labor shortages, reduce safety risks and eliminate inefficient tasks, freeing labor to tend to more pressing issues and allowing operators to uplevel their staff to more value-added jobs. As staff can play a larger role in strategic tasks, operators can focus on training to fill the emerging skills gap - giving employees an upskilled career path and mitigating high turnover rates.
The Role of Digital Twins
Another key enabling technology on the path to dark warehouses is the use of digital twins. What are digital twins? They're virtual copies of physical environments—and they're seeing rapid uptake in the warehouse industry. Working with a simulation and design integrator, a warehouse operator can create a digital twin of a space to test possible automation improvements virtually, without shutting down operations.
With digital twins, operators can test different floor plans and workflows without rearranging physical assets. They can introduce many different variables to a virtual model and evaluate their effects. They can also virtually deploy new automation and dark warehouse technologies, and review the impact on operations. In short, operations managers can boost warehouse performance faster and more cost-effectively than they could in the past.
Once a new automation addition is proven virtually, it can be efficiently implemented on a warehouse floor without the need for trial and error, and with minimal downtime. In an era of stock keeping unit (SKU) proliferation and faster fulfillment expectations due to long-term e-commerce growth and other factors, forward-thinking companies are leaning on digital twins to gain an efficiency edge now and move further down the path toward dark warehouses.
Full concepts of dark warehouses and live implementations are still a few years away. However, with innovations in sensors and the increasing interoperability and exchange of information between robots, AI, myriad forms of automation, and enterprise software, the future is closer than it appears. A good example of this future is IoT sensors and robotic process automation working in concert to perform predictive maintenance on specific warehouse equipment.
Dark warehouses aren't just one process or piece of technology, but are the collective technology and automation coming together to operate seamlessly. Each warehouse will require different processes, but little by little the industry is on its way to seeing this big-picture thinking come to fruition.
Warehouses and distribution center operators are discovering the path to the dark warehouse. With automation like smart depalletizers, robotic unloaders, AMRs, digital twins and other innovations all tied together by software and working in sync, operators are discovering they can succeed even amid the current labor shortage and unpredictable economy – and build a path to the dark warehouses of the future.