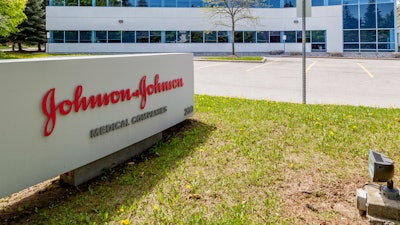 iStock
Johnson & Johnson today reported solid first-quarter sales growth but signaled a possible slowdown after suspending its COVID-19 sales guidance due to global supply surplus and demand uncertainty.
According to the Associated Press, the company's one-shot vaccine contributed $457 million in global sales for the pharmaceutical division, which totaled $13 billion for the quarter. The vaccine managed just $75 million in U.S. sales, down about 25% from the same quarter of 2021.
Despite any uncertainty around future vaccine sales, Johnson & Johnson's first-quarter report was better than expected. Total sales grew 5% to reach $23.4 billion with operational growth of 7.7% and adjusted operational growth of 7.9%. However, earnings per share fell 16.8% to $1.93 while adjusted earnings per share rose 3.1% to $2.67.
The company said it's maintaining its 2022 full-year guidance for adjusted operational earnings per share and base business operational sales.
"Our first quarter results demonstrate strong performance across the enterprise, despite macro-economic headwinds. I am incredibly proud of Johnson & Johnson's 144,000 employees for their relentless passion and Credo-based commitment to delivering transformative healthcare solutions to patients and customers around the world," said CEO Joaquin Duato in a statement. "Looking ahead, I remain confident in the future of Johnson & Johnson as we continue advancing our portfolio and innovative pipeline."
Pharmaceutical was the biggest contributor for Johnson & Johnson during the quarter but the company's MedTech division also grew its revenue by 5.9% to nearly $7 billion.
The company said MedTech worldwide adjusted operational sales, which exclude the net impact of acquisitions and divestitures and translational currency, grew 8.6%, driven by electrophysiology products in Interventional Solutions, contact lenses and surgical vision products in Vision, wound closure products in General Surgery, biosurgery in Advanced Surgery, and hips, trauma, and knees in Orthopaedics.