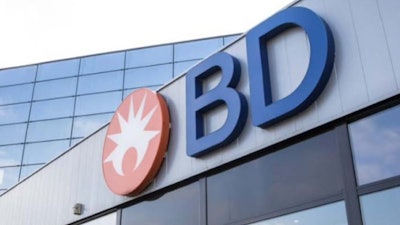 BD
FRANKLIN LAKES, N.J. -- Becton, Dickinson and Company (BD) today announced the inaugural members of the BD Scientific Advisory Board (SAB), which is comprised of top external medical key opinion leaders, science and technology experts and experienced innovation leaders.
The SAB will advise BD on the company's technology capabilities, innovation pipeline, tuck-in M&A opportunities, early-stage investments and growth prioritization, along with emerging trends in health care, science and technology, and the potential implications for BD.
Inaugural members of the SAB include:
John DeFord, PhD: DeFord serves as an adviser to BD and co-chair of the BD SAB. He is a member of the Weldon School of Biomedical Engineering Advisory Board and executive faculty at Purdue University's Krannert School of Management and Weldon School of Biomedical Engineering. DeFord is also a member of the board of directors of Nordson Corporation and NuVasive.
Claire Fraser, PhD: Fraser is the director of the Institute for Genome Sciences, a professor of Medicine, Microbiology and Immunology at the University of Maryland School of Medicine and a member of the BD board of directors. Fraser is also a member of the National Academy of Medicine and recent past chair of the board for the American Association for the Advancement of Science.
Martha Gray, PhD: Gray is the J. W. Kieckhefer professor of Health Sciences and Technology at Massachusetts Institute of Technology (MIT) and professor of Electrical Engineering and Computer Science. She has spent the past two decades establishing a new paradigm for research in the academy that has proven to provide an innovation pipeline for biomedical technology.
Eric Perakslis, PhD: Perakslis is the chief science and digital officer at the Duke Clinical Research Institute. His work focuses on collaborative efforts in data science that have spanned medicine, policy, engineering, computer science, information technology and security.
Ken Sands, MD, PhD: Dr. Sands is the chief epidemiologist of HCA Healthcare, leading enterprise-wide initiatives for HCA Healthcare's 182 hospitals and approximately 2,300 ambulatory sites of care in the U.S. and U.K.
Jay Schnitzer, MD, PhD: Dr. Schnitzer is senior vice president, chief technology officer and chief medical officer at the MITRE Corporation. In this role, he directs the organization's independent research and development program and manages development of corporate technology strategy, which spans MITRE's operating centers and sponsor community.
"We're at an inflection point where advances in science, technologies like data science and artificial intelligence, and new care models are opening up unprecedented opportunities to improve and reshape what health care looks like," said Joseph (Joe) Smith, MD, PhD, chief scientific officer at BD and co-chair of the SAB.