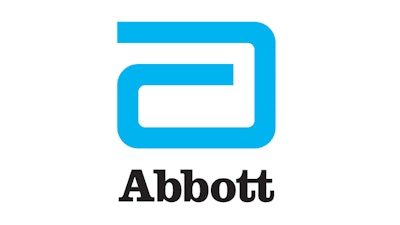 Abbott announced yesterday it has received FDA clearance for its Alinity m STI Assay. The test simultaneously detects and differentiates four common sexually transmitted infections (STIs). STIs, when left untreated, can lead to severe health complications, including increased risk of getting certain cancers and infertility.
The first-of-its-kind multiplex test will help address increasing STI rates, after disruptions in delivery of care during the pandemic contributed to a decline in routine STI screening and an increase in cases.
The Alinity m STI test for Chlamydia trachomatis (CT), Neisseria gonorrhoeae (NG), Trichomonas vaginalis (TV) and Mycoplasma genitalium (MG) requires one swab sample or a urine sample collected in a healthcare setting by either a clinician or by the patient.
The test runs on Abbott's Alinity m system, a high-volume laboratory molecular instrument. Alinity m uses polymerase chain reaction (PCR) technology, with high sensitivity in detecting infectious diseases. This test can help healthcare providers save time, increase efficiency and better serve patients.
According to the CDC, 20% of the U.S. population has an STI. Every year for the past six years of available data, the CDC reported that cases of chlamydia, gonorrhea, and syphilis reached an all-time high.
Advanced molecular testing allows those living with these infectious diseases to be diagnosed correctly and can help healthcare providers determine how individuals are responding to treatment.
Assays available for use on the Alinity m system in the U.S. include: SARS-CoV-2 (Emergency Use Authorization), Resp-4-Plex (Emergency Use Authorization), HCV (Hepatitis C), HBV (Hepatitis B), HIV-1 (Human Immunodeficiency Virus type 1) and STI (CT/NG/TV/MG).
The system helps to improve laboratory workflow and efficiency with its large capacity and fast turnaround time, running up to 1,080 tests in a 24-hour period based on laboratory practice and workflow.
Availability varies by geography.