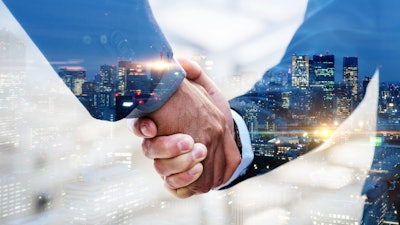 iStock
BD, a global medical technology company, and Frazier Healthcare Partners, a private equity firm focused exclusively on the health care sector, announced a definitive agreement for BD to acquire Parata Systems, a provider of pharmacy automation solutions, for $1.525 billion.
Parata's portfolio of pharmacy automation solutions allow a growing network of pharmacies to reduce costs, enhance patient safety and improve the patient experience. Significant macro trends such as clinician shortages, wage inflation, centralization of pharmacy services and increased clinical demands on pharmacists are driving demand for intelligent workflow solutions.
Through the use of automation and advanced software, pharmacists can focus more of their time on higher value clinical work and patient interactions to help improve medication adherence, medication safety and patient outcomes. The transaction will be complementary to BD's solutions in medication management with a new set of technologies across the care continuum, including acute care health systems, retail pharmacies, long-term care and home settings.
Parata provides BD access to a new $600 million pharmacy automation market segment that is expected to grow approximately 10% annually to $1.5 billion in the U.S. alone over 10 years. Together with BD, the company expects Parata's solutions to outpace market growth through BD's commercial footprint, global scale and innovation capabilities.
"Parata expands BD's solutions to a new area of the high-growth pharmacy automation space and is a prime example of BD executing our disciplined M&A strategy," said Tom Polen, chairman, chief executive officer and president of BD. "Parata has a highly attractive financial profile and compelling value proposition that meets all of our rigorous investment criteria on growth, profitability and returns. With the addition of Parata, BD further advances our 2025 growth strategy around smart, connected care and enabling new care settings. We look forward to welcoming the talented Parata team to BD."
"BD and Parata share a common purpose with closely aligned cultures. We are very proud of the company the team has built at Parata over the past 21 years and feel BD is a great home for our company, innovative solutions and technology, and Parata's team members. The combination with BD will further advance our purpose of powering pharmacies to help people lead healthier lives," said Rob Kill, chief executive officer of Parata.
The $1.525 billion all-cash transaction is expected to close by the end of the first half of BD's fiscal year 2023, subject to the satisfaction of customary closing conditions, including receipt of regulatory clearances. The transaction is consistent with BD's disciplined and balanced capital allocation strategy, including its financial policy framework to manage capital deployment around its 2.5 times net leverage target.