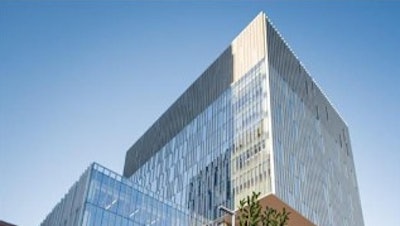 Bayer
Bayer AG announced the opening of its new Research and Innovation Center at Kendall Square in Boston-Cambridge, Massachusetts, expanding the company's footprint into one of the world's most innovative pharmaceutical research and development locations.
Representing a total $140 million investment into the area, Bayer's 62,100-square-foot facility houses a new center of precision molecular oncology research equipped with laboratories and offices for the development of novel targeted cancer therapies for patients. In addition, the center comprises a newly established research team focused on leveraging chemical biology techniques to further propel the company's oncology drug development process.
"Our new Bayer research and innovation center at Kendall Square is part of our strategy to be at the forefront of scientific discovery and breakthrough innovation for better patient healthcare," said Stefan Oelrich, Member of the Board of Management, Bayer AG and President of Bayer's Pharmaceuticals Division. "Being part of this unique innovation ecosystem will support our teams in creating breakthrough innovations for patients together with the experts here."
"Bayer is undergoing significant growth in the United States in both research and development and our commercial operations," said Sebastian Guth, Ph.D., President of Bayer Pharmaceuticals, Americas Region. "The opening of our new precision molecular oncology research center in Kendall Square reflects the deep commitment Bayer is making to scale our oncology presence in the United States. It also builds on collaborations already in place in Boston in cardiovascular, another key area of focus for Bayer, with our with joint laboratories in precision cardiology with the Broad Institute of MIT and Harvard."
Spanning across two floors, the new center currently provides space for 100 employees, while the company is prepared to fill an additional 50 roles in the coming months. It is designed to enhance the collaboration between Bayer research and development, its internal partners such as BlueRock Therapeutics, Asklepios BioPharmaceutical (AskBio) and Vividion Therapeutics, as well as external partners to accelerate the development of transformative treatments for patients. In addition to the new center at Kendall Square in Cambridge, Bayer has also established strategic research collaborations with top scientific partners in Boston, including joint laboratories in the areas of lung disease with Brigham and Women's Hospital and Massachusetts General Hospital and precision cardiology with the Broad Institute of MIT and Harvard.