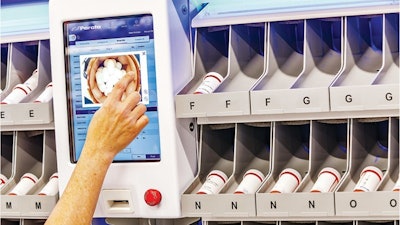 BD
BD today announced it has completed the acquisition of Parata Systems.
Parata advances BD's solutions strategy by providing a portfolio of pharmacy automation solutions that power a growing network of pharmacies to reduce costs, enhance patient safety and improve the patient experience for retail, hospital and long-term care pharmacies. As a combined company, BD is positioned to offer a comprehensive set of technologies to the $600 million pharmacy automation market segment that is expected to grow approximately 10% annually to $1.5 billion in the U.S. alone over 10 years.
"Completing this acquisition represents an important step towards advancing our 2025 growth strategy around smart, connected care and enabling new care settings," said Tom Polen, chairman, chief executive officer and president of BD. "I'd like to officially welcome the Parata team to BD as we join together to uniquely provide a more comprehensive set of smart, connected care technologies to support our customers as they expand care to new settings and centralize their pharmacy operations."
The acquisition builds on BD's legacy and experience of integrating teams to drive future growth and innovation. The Parata portfolio will become part of the solutions offered by BD's Medication Management Solutions business within the BD Medical segment. Together, the combined BD and Parata team will help pharmacy leaders address critical trends, such as clinician shortages, wage inflation, centralization of pharmacy services and increased clinical demands on pharmacy staff.