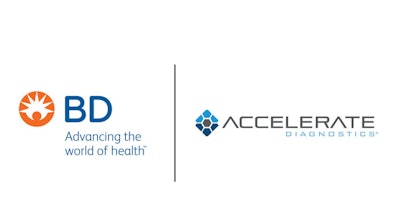 The companies will work together to bring rapid antimicrobial identification and susceptibility diagnostics to more clinicians and patients worldwide.
BD (Becton, Dickinson and Company) and Accelerate Diagnostics today announced a collaboration agreement in which BD will offer Accelerate's rapid testing solution for antibiotic resistance and susceptibility offering results in hours, versus one to two days with some traditional laboratory methods.
Under the agreement, BD will market and sell the Accelerate Pheno system and Accelerate Arc module and associated test kits through its global sales network in territories where products have regulatory approval or registration.
The solutions complement BD's existing clinical microbiology portfolio and advance the shared goal of both companies to address the global threat of antimicrobial resistance.
The Accelerate PhenoTest BC kit is the first test cleared by the U.S. Food and Drug Administration that can deliver both rapid identification and phenotypic antibiotic susceptibility results in hours direct from positive blood cultures.
Recent external studies indicate this solution offers results one to two days faster than traditional laboratory methods, which can include culturing samples for 18 to 24 hours, and then performing a susceptibility test that can take eight to 24 hours to result. This enables clinicians to optimize antibiotic selection and dosage specific to the individual patient, days earlier. It is well established in peer-reviewed literature that improving time to optimal therapy benefits both patient outcomes and hospital operations.
The Accelerate Arc module is a simple load-and-go system that eliminates the requirement of a subculture for MALDI ID as well as the need for lengthy hands-on time by automating the direct MALDI ID workflow. It is currently US, CE-IVDR and UKCA registered for positive blood cultures.