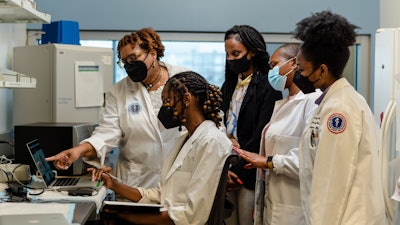 Chan Zuckerberg
The Chan Zuckerberg Initiative (CZI) announced a partnership with the nation's four Historically Black Medical Colleges (HBMCs) to further support the scientific research they are leading to address significant gaps in genomics research, create new tools and methods to prevent and treat disease, and accelerate precision health for everyone, particularly Black people and other people of color.
CZI's Accelerate Precision Health program will advance genomics research by investing in genomics programs at each of the HBMCs—Charles Drew University College of Medicine in Los Angeles, California; Howard University College of Medicine in Washington D.C.; Meharry Medical College in Nashville, Tennessee; and Morehouse School of Medicine in Atlanta, Georgia.
The Accelerate Precision Health program will award $46 million total in funding, or $11.5 million per institution over the next five years. Through the partnership, the HBMCs will expand research opportunities for undergraduate, graduate, and post-doctoral students; support the creation of a new Master of Science program in Genetic Counseling; support recruitment of anchor faculty in genomics; and fund state-of-the-art tools for data handling, storage, and analysis, among other elements. Dr. Ivory Dean, CZI's Science Program Manager, Diversity in Science, and Dr. Hannah Valantine, CZI's Senior Science Advisor, will oversee this new program.
"We are honored to partner with these four institutions that are national leaders and championing some of the most groundbreaking research in precision health," said CZI Co-Founder & Co-CEO Priscilla Chan. "As pillars in their communities, the Historically Black Medical Colleges are also uniquely positioned to engage populations that have been systematically underrepresented in the scientific research process to ensure that the breakthroughs represent a healthier future for everyone."
This grant is part of a multi-year, $500 million investment CZI announced in December 2020 to support organizations leading the way to advance racial equity, diversity, and inclusion efforts. Additional CZI funds also support Black, Latina/o/x, and Indigenous students who are pursuing STEM degrees at the University of California, San Diego and UC Berkeley, as the two campuses implement aspects of the University of Maryland, Baltimore County's successful Meyerhoff Scholars Program. In January 2022, CZI launched the Science Diversity Leadership program in partnership with the National Academies of Sciences, Engineering, and Medicine that aims to recognize and further the leadership and scientific accomplishments of excellent biomedical researchers who—through their outreach, mentoring, and teaching—have a record of promoting diversity, equity and inclusion in their scientific fields.