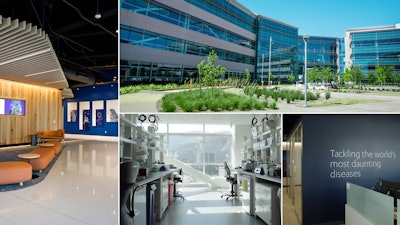 Johnson & Johnson
Johnson & Johnson today opened its San Francisco Bay Campus, a Research & Development (R&D) facility in the Bay Area.
The nearly 200,000 square-foot facility will house up to 400 employees, more than doubling the R&D presence of Johnson & Johnson in the Bay Area. The campus bridges key scientific and technological capabilities by co-locating Janssen R&D, Johnson & Johnson Innovation and Johnson & Johnson Technology. It will further integrate the company into the Bay Area innovation ecosystem to strengthen and increase collaborations with innovators to accelerate growth.
The R&D focus at the new site spans Janssen's therapeutic areas and key functions, including emerging science and technologies for gene and RNA therapies, novel treatments and approaches for retinal and infectious diseases, and advanced data science, including artificial intelligence and machine learning. Co-locating expertise at the site will enable the expansion of the Company's world-class discovery engine and industry-leading pipeline.
The Johnson & Johnson Innovation Center in California has facilitated investments and collaborations to accelerate early-stage healthcare innovation with academic and industry partners in the Bay Area and greater California ecosystem since 2014. The San Francisco Bay Campus, along with the Company's JLABS @ South San Francisco, will continue to enable the Company to build strong relationships with entrepreneurs, scientists and investors to support and invest in highly differentiated innovations that extend and improve lives everywhere. Additionally, given the convergence of healthcare and technology in the region, the Company will increase its focus on the Johnson & Johnson Technology organization to enhance its ability to create innovative digital solutions to advance human health.
Building on Johnson & Johnson's long-standing commitment to use its expertise and resources to reduce the environmental footprint of its operations, the Bay Area hub is designed as a high-performance green campus, reinforcing the Company's pledge to be responsible stewards in creating a healthy, more sustainable future. The aim is for the new site to receive Silver Leadership in Energy & Environmental Design (LEED) certification, the most widely used green building rating system in the world.