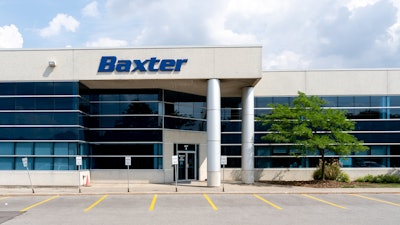 iStock
Baxter International today announced a comprehensive strategic roadmap to meaningfully enhance its operational effectiveness, drive toward improved long-term performance, accelerate innovation and create additional value for all stakeholders. These changes include the plan to spin off the company's Renal Care and Acute Therapies global business units (GBUs) into an independent, publicly traded company; a simplified commercial and manufacturing footprint to enhance underlying business performance; and further portfolio actions to improve Baxter's capital structure, including a review of strategic alternatives for the BioPharma Solutions (BPS) business.
Creation of Standalone Kidney Care Company
Baxter's Renal Care and Acute Therapies businesses are leaders in the global kidney care industry. As an independent, publicly traded company, the new kidney care business would carry forward Baxter's nearly 70-year legacy as a pioneer and leader in kidney disease therapies. The new business would continue to serve as a trusted partner to providers and clinicians around the world, focusing on improving outcomes for the more than one million patients it serves annually in more than 70 countries.
The new kidney care company will benefit from its existing leading product portfolio, geographically diverse footprint, and extensive commercial operations, as well as from robust service capabilities that support its therapies delivered in the home, clinics, and intensive care unit (ICU). As a standalone entity with its own investment priorities and enhanced management focus, the new kidney care company will be better positioned to pursue growth opportunities and invest in innovation.
The business will operate in market segments totaling approximately $15 billion that collectively are estimated to grow between 3% to 4% on a compound annual basis over the next three years. The company will have leading positions in the businesses in which it operates, meaningful financial scale, and opportunities to expand margins in the near term and beyond. In 2021, sales for these businesses totaled approximately $5 billion globally.
New Operating Model to Simplify Baxter's Operations
Over the past several years, Baxter has executed many initiatives to strengthen its ability to deliver on its vision to transform healthcare. To better achieve these goals, the company is working to finalize a new operating model that it will begin to implement in parallel with its planning for the proposed spinoff of the Renal Care and Acute Therapies businesses.
Once the simplified model is finalized and implemented, Baxter is expected to be a more integrated and nimble organization that can respond to changes in the environment faster and more effectively, while enhancing its ability to advance innovation for its patients. This simplified structure should create a more resilient supply chain and greater alignment with the company's manufacturing footprint, better positioning the organization to deliver against the operational and investment priorities of Baxter's businesses. As part of this organizational redesign, the company expects to initiate a restructuring plan, including optimization of its manufacturing footprint. Baxter plans to provide additional detail on these efforts in the company's fourth-quarter earnings conference call on Feb. 9, 2023.
After the completion of the reorganization and the proposed spinoff of the new kidney care company, Baxter's market-leading businesses will continue to compete in large and growing segments, which total more than $100 billion in size and taken together are expected to grow approximately 3% on a compound annual basis over the next three years. On a pro forma basis, including Hillrom as if it were owned for the entire year, 2021 annual sales across these businesses (excluding Renal Care and Acute Therapies) were approximately $11 billion. Baxter will continue to be led by CEO Joe Almeida.
Strategic Alternatives for BioPharma Solutions (BPS) Business
Baxter is pursuing strategic alternatives for the BPS business, including a potential sale or other separation options. BPS is a provider of contract manufacturing services to the pharma and biotech industries with an established track record and strong reputation for quality. The business has continued opportunities for growth, but its business model and client focus have limited strategic alignment with the rest of Baxter's portfolio. A potential sale of, or other strategic transaction involving, this business would help Baxter further streamline its focus while providing an opportunity for capital redeployment in accordance with its stated capital allocation priorities, including debt repayment.
Updated Strategic & Capital Allocation Focus
Following the proposed operating model redesign and spinoff, Baxter should emerge as a stronger hospital solutions and connected care company. As a more focused business, Baxter will be better positioned to make strategic investments to accelerate its vision, delivering differentiated value to all stakeholders with its unique combination of products, therapies and connected care platforms.
By increasing R&D investments in higher-growth and more strategic opportunities, Baxter will drive innovation to help accelerate sales growth, better serve patients and customers, and provide new opportunities for employees. The company will also have the opportunity to expand investments in marketing, sales, and business development, while optimizing its manufacturing network and systems to improve its margin profile and create value.
Transaction Details
The Baxter Board of Directors authorized the company to proceed with a plan to spin off the Renal Care and Acute Therapies businesses into an independent, publicly traded company through a distribution to Baxter shareholders of common stock of a newly formed entity holding assets and liabilities comprising the Renal Care and Acute Therapies businesses. Baxter intends for the spinoff to qualify as tax-free to Baxter and its shareholders for U.S. federal income tax purposes.
Baxter expects to complete the proposed spinoff in 12 to 18 months, subject to the satisfaction of customary conditions, including final approval from the Baxter Board of Directors, the filing and effectiveness of a registration statement on Form 10, receipt of an Internal Revenue Service (IRS) ruling or related tax opinions from counsel, satisfactory completion of financing arrangements, consultations with works councils and other employee representative bodies, and any necessary regulatory approvals.
Baxter will provide updates in due course as the proposed spinoff progresses, including detailed information on the spinoff and relevant financial information, which will be included in an exhibit to a registration statement on Form 10 to be filed with the Securities and Exchange Commission.
Baxter is targeting maintenance of an investment grade credit rating (including after giving effect to the proposed reorganization and spinoff). The proposed leadership, governance, capital structure, dividends and other matters for the new kidney care company will be announced at a later date.
There can be no guarantee that the spinoff, the simplified operating model, or the sale of, or other strategic transaction involving, the BPS business will be completed in the manner or over the timeframes described above, or at all.