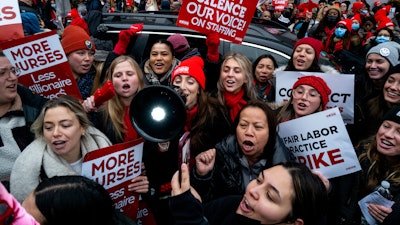 AP Photo/Craig Ruttle
NEW YORK (AP) — Striking nurses chanted and waved signs outside two large New York City hospitals Monday after a weekend of negotiations over pay and staffing levels did not produce a deal for a new contract.
The walkout involves as many as 3,500 nurses at Montefiore Medical Center in the Bronx and about 3,600 at Mount Sinai Hospital in Manhattan. Patients are likely to see disruptions in care such as emergency room visits and childbirth.
The New York State Nurses Association, which represents the workers, said it was being forced into the drastic step because of chronic understaffing that leaves them caring for too many patients.
Striking nurses sang the chorus from Twisted Sister's 1984 hit "We're Not Gonna Take It" on Monday morning outside Mount Sinai on Manhattan's Upper East Side.
"We were heroes only two years ago," said Warren Urquhart, a nurse in transplant and oncology units, referring to the height of the COVID-19 crisis. "We was on the front lines of the city when everything came to a stop. And now we need to come to a stop so they can understand how much we mean to this hospital and to the patients."
Nurse practitioner Juliet Escalon said, "We were so-called heroes — and now, this is how you treat the heroes?"
Union officials say nurses are pushing the issue of staffing levels for patients' sake, as well as their own. Escalon said she sometimes finds herself caring for twice as many people as standards call for and skipping bathroom breaks to attend to patients.
"What we're really fighting here for is patient safety," she said. "How can I pay attention to your needs when I'm being called somewhere else with the rest of the patients?"
Mount Sinai's chief nursing officer, Fran Cartwright, has said that she empathizes with overtaxed nurses and that the hospital needs time to rebuild its ranks after the coronavirus pandemic spurred upheaval and departures in nursing and many other professions.
In the meantime, both hospitals planned to assign managers and others not represented by the union to cover the shifts of striking workers.
Montefiore officials said in a statement Monday, "We remain committed to seamless and compassionate care, recognizing that the union leadership's decision will spark fear and uncertainty across our community."
Montefiore and Mount Sinai had been getting ready for a walkout by transferring patients, diverting ambulances to other institutions, postponing nonemergency medical procedures and arranging for temporary staffing.
Gov. Kathy Hochul urged the union and the hospitals late Sunday to take their dispute to binding arbitration.
Montefiore's administration had said it was willing to let an arbitrator settle the contract "as a means to reaching an equitable outcome."
The union did not immediately accept the proposal. In a statement, it said Hochul, a Democrat, "should listen to the frontline COVID nurse heroes and respect our federally-protected labor and collective bargaining rights."
Montefiore and Mount Sinai are the last of a group of hospitals with contracts with the union that expired simultaneously. The Nurses Association had initially warned that it would strike at all of them at the same time — a potential calamity even in a city with as many hospitals as New York.
But one by one, the other hospitals struck agreements with the union as the deadline approached.
Nurses at NewYork-Presbyterian Hospital ratified a deal Saturday that will give them raises of 7%, 6%, and 5% over the next three years while also increasing staffing levels. That deal, which covers 4,000 nurses, has been seen as a template for the negotiations with other hospital systems.
Nurses at two facilities in the Mount Sinai system also tentatively agreed to contracts Sunday. But negotiations continued at the system's flagship hospital on Manhattan's East Side.
Mount Sinai's administration said in a statement that the union's focus on staffing-to-patient ratios "ignores the progress we have made to attract and hire more new nurses, despite a global shortage of healthcare workers that is impacting hospitals across the country."