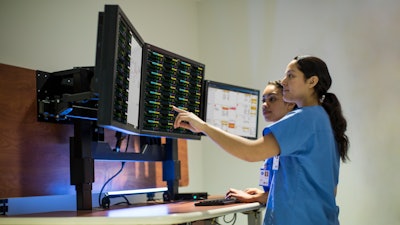 Philips
Royal Philips and Masimo today announced an expansion of their partnership to augment patient monitoring capabilities in home telehealth applications with the Masimo W1 advanced health tracking watch. The W1 will integrate with Philips's enterprise patient monitoring ecosystem to advance the forefront of telemonitoring and telehealth.
Masimo W1 is one of the first watches to offer accurate, continuous pulse oximetry measurements and other insightful health data. Using Masimo's secure health data cloud, patient information will be relayed to the Philips patient monitoring ecosystem for remote clinician surveillance. Hospital clinicians will be able to remotely monitor key health markers as their patients move throughout their homes and go about their daily lives.
Physicians will be able to more confidently discharge patients knowing that their vital signs will still be monitored (via Masimo W1) and their physiological status tracked (via Philips dashboards), helping them catch possible patient deterioration sooner and make more informed interventions. This breakthrough combination of monitoring and connectivity technologies will enable numerous opportunities supporting early discharge initiatives, hospital-at-home programs, and chronic illness management.
Masimo W1 for use in medical applications is CE marked and is pending FDA clearance.