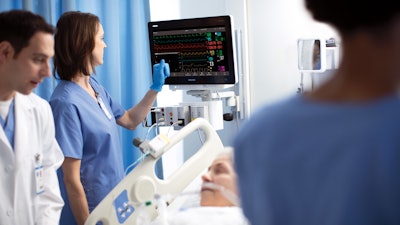 Philips
Royal Philips and Northwell Health, the largest healthcare provider in the state of New York, USA, announced today they have entered into a seven-year agreement to help the health system standardize patient monitoring, enhance patient care and improve patient outcomes while driving interoperability and data innovation. This will not only allow Northwell Health to lay the foundation for a future-proof, enterprise-wide platform, but the system will also allow them to support innovative technologies as they evolve and give them the flexibility to scale their patient monitoring systems quickly and efficiently.
As the largest healthcare provider in the state, Northwell Health has 83,000 employees, 21 hospitals, including their flagship facilities North Shore University Hospital and Long Island Jewish Medical Center, 850 outpatient facilities and one of the largest residency programs in the U.S. with over 1,900 residents and fellows. All of this to help them address a service area of twelve million people, treating over two million patients a year, delivering over 30,000 babies, and treating more New Yorkers for cancer than any other care provider. Northwell Health is also pioneering research at the Feinstein Institutes, including national clinical trial sites for treating lupus, rheumatoid arthritis, and paralysis.
"With the new system, we wanted something that could leverage our existing IT infrastructure and allow Northwell to offer cybersecurity, while also building in redundancy with local availability," said Phyllis McCready, vice president and chief procurement officer for Northwell Health. "The new Philips system gives us an enterprise-wide platform that centralizes our patient monitoring and allows us to see what is happening at each bedside. The innovative approach is extensible and allows us to give the communities we serve the very latest technology, while helping us to deliver a better patient and staff experience and better outcomes."
In the wake of the pandemic, health systems like Northwell Health that already treat millions of patients a year required new levels of scalability. In many cases, they were having to convert unconventional spaces like convention centers and parking lots into ICUs to help treat patients. With the Philips patient monitoring platform, they have a vendor-agnostic system that will leverage the health system's existing network infrastructure, along with Philips Software Evolution Services, to standardize care and ensure that Northwell Health is at the forefront of monitoring innovation.
"As forward-thinking health systems like Northwell Health take an enterprise-wide approach to healthcare IT, we can help take the guesswork out of the technology and help them to standardize their systems, with an open, interoperable architecture that can break down barriers to integration and simplify workflow for care providers," said Jeff DiLullo, chief market leader of Philips North America. "Their new patient monitoring system can help minimize manual tasks, give staff a centralized view of patients, and harness the power of massive amounts of data by using AI to provide actionable clinical insights – all of which are helping them to deliver a better patient and staff experience, lower costs and contribute toward the goal of improving outcomes."