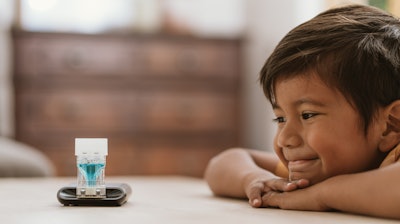 Aptitude
Aptitude Medical Systems announced today that it has received an award up to $53.7 million from Biomedical Advanced Research and Development Authority (BARDA), part of the Administration for Strategic Preparedness and Response within the U.S. Department of Health and Human Services. The funding supports the development of over-the-counter molecular diagnostics capable of delivering lab-quality results in 15-30 minutes while approaching the cost of antigen tests.
The funding will leverage advancements achieved by Aptitude's testing platform, Metrix, through $19.6 million in funding to develop and validate at-home COVID and COVID/Flu tests and up to $34.1 million allocated for options to develop additional multiplex tests for other infectious disease threats. This BARDA award will support development of these products through FDA 510(k) clearance. The Metrix COVID-19 Test is the first product on the Metrix platform and received Emergency Use Authorization from the FDA. It will be closely followed by the Metrix COVID/Flu Test and software to integrate patient, providers, payers, and public health.
Aptitude aims to make molecular tests as accessible as antigen tests according to JP Wang, PhD, Aptitude CSO and co-founder. "The value of that upgrade is clear – a PCR-quality molecular test means that you can detect an infection earlier to avoid spreading to your family, friends, and coworkers. Antiviral treatments are significantly more effective if given at the start of an infection – not mid-infection. So, detecting sooner means you can recover sooner because the treatments actually work better. Traditional healthcare is too slow to deliver this value to most people. Metrix fixes that." Dr. Wang continues, "Metrix disrupts point of care testing by eliminating reliance on a bulky, expensive instrument and delivers a low-cost consumable simultaneously. This unlocks molecular testing in more settings - pharmacies, physician offices, and homes. A patient can interreact with their health care provider either physically or virtually, get powerful tests results on the spot, and have their prescriptions waiting for them in a seamless experience."
Dr. Michael Mina, MD, PhD, CSO of eMed and previously professor at Harvard School of Public Health & Medical School added, "Accessible testing in the home is one of the most important advances in diagnostics for both public health, to reduce transmission, and to improve outcomes through earlier detection and initiation of treatment. Metrix is one example of this – bringing the power of an advanced laboratory into the home in the size of a cell phone, using either a swab or saliva, and with disposable test components that are minimalist, scalable, low cost and will push the home molecular diagnostic industry into a new era that competes with antigen tests on price and scale but keeps the quality we might expect from a laboratory."
Aptitude's platform extends well beyond respiratory. Metrix can detect diseases in multiple sample types (swabs, saliva, blood, and urine) and offers high multiplex capacity to support syndromic panels which existing point-of-care systems can't do.
"We are honored that BARDA has selected Aptitude as a partner. We expect to bring these best-in-class products to the market to address the ongoing need for diagnostics for COVID and other disease threats," remarked Scott Ferguson, PhD, CEO and co-founder of Aptitude. "More broadly, we are excited to work together to drive a new generation of healthcare where individuals, doctors, and pharmacies can leapfrog the lab to get timely diagnostic information to limit spread, prescribe treatments, and improve health outcomes. Aptitude is distinctly capable of doing so by getting both the performance and the economics right."