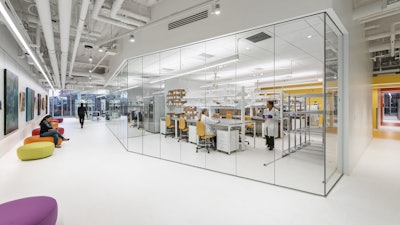 LabCentral
LabCentral, a shared laboratory space designed as a launchpad for biotech startups, today announced the grand opening of LabCentral 238, its newest facility in Kendall Square that is focused on scale-up bio-manufacturing.
Originally announced in 2019, LabCentral 238 was supported by the founding sponsorships of Astellas Pharma Inc. and MLSC as well as additional sponsors Thermo Fisher Scientific and Waters Corporation.
LabCentral 238 features 100,000 square feet of space – tripling LabCentral's overall lab space – and establishing a unique pipeline of facilities from initial start-up bench science (LabCentral 700) to growing startups (LabCentral 610) and finally scale-up bio-manufacturing (LabCentral 238) – all in Kendall Square.
LabCentral 238 has capacity for up to 13 early-to-mid stage companies and supports the transition from R&D bench-scale science into scalable product of pre-clinical material as resident companies design and test the processes for their compounds prior to full-scale GMP (Good Manufacturing Practice) production.
LabCentral 238 already is home to more than 184 researchers, technicians, scientists and entrepreneurs from 11 companies, including Asimov, Codagenix, Kernal Biologics, Mediar Therapeutics, NextPoint Therapeutics, Nvelop Therapeutics, Satellite Bio, Seismic Therapeutic, Tevard Biosciences, TreeFrog Therapeutics and Vedere.