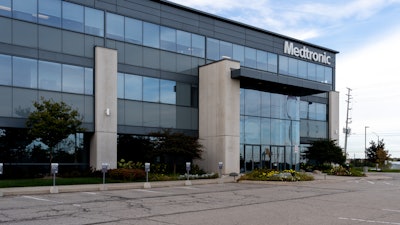 iStock
Medtronic today announced its intention to pursue a separation of the company's combined Patient Monitoring and Respiratory Interventions businesses ("NewCo"), which are part of the company's Medical Surgical Portfolio.
The company said the separation will enable greater investment focus in the areas of highest strategic priority across the company, and will facilitate the execution of its leadership strategy in medtech markets that leverage the company's strengths. Following the separation of NewCo, Medtronic will have:
A more streamlined portfolio with sharpened focus on deploying capital into opportunities most aligned with its long-term growth strategies;
Modestly faster organic revenue growth and an increased weighted average market growth rate (WAMGR); and
A strong balance sheet and continued commitment to its strategy of driving durable growth.
NewCo is uniquely positioned to offer the full suite of connected patient monitoring and respiratory care solutions
NewCo is expected to be a partner for connected care solutions with brands and leading positions in patient monitoring and critical care:
The Patient Monitoring technology portfolio includes Nellcor pulse oximetry, Microstream capnography, BIS brain monitoring, INVOS perfusion monitoring, and HealthCast connected care solutions.
The Respiratory Interventions technology portfolio includes Puritan Bennett ventilators, Shiley airway portfolio, McGrath MAC video laryngoscopy, DAR breathing systems, as well as PAV+, NIV+ and IE Sync ventilation software solutions designed to improve workflow and care delivery.
Patient Monitoring and Respiratory Interventions reside in the Respiratory, Gastrointestinal & Renal division within the Medtronic Medical Surgical Portfolio. In fiscal year 2022, the combined business generated global revenue of approximately $2.2 billion. The combined business has a constant currency revenue growth profile and gross margin profile slightly below overall Medtronic and an operating margin profile slightly higher than overall Medtronic. The combined business has a global commercial footprint and a team of more than 8,000 employees worldwide.
NewCo is expected to be ideally positioned to deliver expanded value creation through:
Global scale and commercial reach to drive increased penetration in core strategic markets;
Connected care solutions to drive increased share within existing customer accounts globally;
Investments in innovation to drive technology leadership, new parameter expansion, and expand its addressable market segments; and
Durable growth with an attractive margin and cash flow profile.
Medtronic plans to redeploy any net proceeds consistent with its stated capital allocation priorities. Medtronic does not expect this separation to impact its dividend policy.
Medtronic expects the separation to be completed in the next 12 to 18 months subject to the satisfaction of closing conditions, including obtaining final approval from the Medtronic Board of Directors, receipt of tax opinions and receipt of other regulatory approvals. Medtronic plans to provide additional details on the potential transaction in due course. There can be no assurance regarding the ultimate timing or structure of the potential separation or that a separation will be completed at all, or if completed, what form the separation would take.