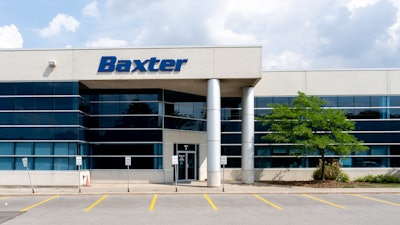 iStock
Baxter International saw its losses grow dramatically despite an increase in revenues due to impairment charges related to the company's acquisition of Hillrom.
For the third quarter, the company posted a net loss totaling $2.9 billion, or $5.83 per diluted share, thanks to special items totaling $3.4 billion after tax.
Baxter said special items include intangible asset amortization, business optimization charges, integration expenses, expenses related to European medical devices regulation, a pension curtailment gain, investigation and related costs, product-related items, goodwill and intangible asset impairments, a loss on a product divestiture arrangement, a reclassification of a cumulative translation loss to earnings and a tax matter.
"Baxter's wide-ranging product portfolio is fundamental to healthcare globally, and at the heart of our sustained success over more than nine decades," said José (Joe) E. Almeida, chairman, president and chief executive officer. "We continue to navigate today's challenging macroenvironment and have taken decisive action on multiple fronts to mitigate ongoing macroeconomic headwinds, while remaining focused on the needs of all our stakeholders – from patients, clinicians and customers to our employees and shareholders. Our vision for the company and fundamental strengths are intact. We remain confident in our ability to deliver innovation for patients, to realize the potential of the Hillrom acquisition and to continue strategically optimizing our portfolio."
In spite of the wider loss, Baxter said its third-quarter revenue totaled $3.8 billion, up 17% year-over-year.