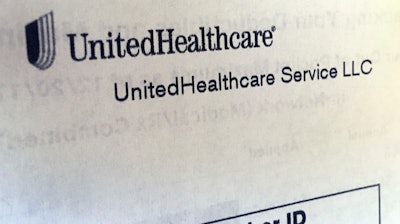 AP Photo/Elise Amendola, File
UnitedHealth Group beat fourth quarter forecasts by adding Medicare Advantage and Medicaid enrollment and delivering more care through its surging Optum Health business.
The health care giant also saw earnings jump for its Optum Rx segment, which runs prescription drug coverage as one of the nation's largest pharmacy benefits managers.
Overall, the company said Friday that its profit soared 17% to $4.76 billion in the final quarter of 2017. But the better-than-expected performance did not prompt UnitedHealth to raise a 2023 forecast it made in late November.
UnitedHealth shares slipped in early-morning trading.
The company's UnitedHealthcare insurance business added more than 600,000 customers to its Medicare Advantage business, which offers privately run versions of the government's Medicare program mainly for people ages 65 and older. It then added another half million people through Medicaid coverage it manages for states.
Those gains helped operating earnings, which exclude investment gains or losses, surge 38% to nearly $3 billion for UnitedHealthcare.
Operating earnings also jumped 16% to almost $4 billion for the company's more profitable Optum business, which includes a growing number of clinics and urgent care and surgery centers.
UnitedHealth once mainly sold health insurance, but it has been providing more care for several years now.
Overall, UnitedHealth booked adjusted earnings of $5.34 per share in the fourth quarter.
Total revenue grew 12% to $82.79 billion, matching Wall Street forecasts.
Analysts expected $5.17 per share, according to Zacks Investment Research.
For the full year, UnitedHealth earned more than $20 billion on $324.16 billion in revenue.
UnitedHealth also reaffirmed on Friday its forecast for adjusted earnings to range between $24.40 and $24.90 per share this year. The company typically starts each year conservatively with its earnings forecasts.
Analysts have set the bar a little higher, expecting $24.94 per share for 2023, according to FactSet.
Shares of Minnetonka, Minnesota-based UnitedHealth Group Inc. slipped about 1% to $490.75 before markets opened. That stock price had climbed past $530 late last month.
_____
Elements of this story were generated by Automated Insights (http://automatedinsights.com/ap) using data from Zacks Investment Research. Access a Zacks stock report on UNH at https://www.zacks.com/ap/UNH