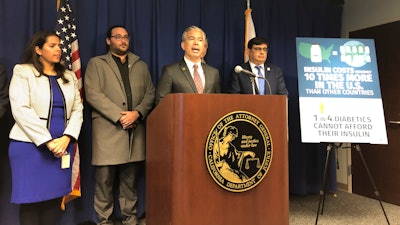 AP photo/Adam Beam
SACRAMENTO, Calif. (AP) — California on Thursday announced it will sue the companies that make and promote most of the nation's insulin, accusing them of scheming to illegally increase the price of the drug and demanding they return millions of dollars to some diabetics who state officials say were overcharged for the medicine they must have to survive.
The lawsuit, to be filed in Los Angeles County Superior Court by Attorney General Rob Bonta, is the latest in a parade of legal actions against these companies from states across the political spectrum — all who have accused the corporate giants of abusing their power to quash competition and boost their profits by keeping the price of insulin high.
A 2021 study by the RAND Corporation comparing the insulin prices of nearly three dozen countries found prices in the United States were about 10 times higher than everywhere else. The average price of a vial of insulin in the United States was $98, while in nearby Canada it was $12.
Attorneys general in Kansas, Arkansas,Mississippi,Minnesota and Kentucky have all filed similar lawsuits in recent years.
"It is not a partisan issue," said Bonta, a Democrat who was elected to his first full term in November. Bonta said state attorneys general from both major political parties "all say the same thing: That the status quo is unacceptable and problematic and awful."
Bonta sued three companies who make insulin — Eli Lilly, Novo Nordisk, and Sanofi — and three companies who manage prescription drug programs that provide insulin — CVS Caremark, Express Scripts and Optum Rx.
Bonta said the manufacturers raise the price of insulin "in lockstep with each other." The prescription drug managers then negotiate with the manufacturers to get a percentage of that price in exchange for prominently promoting their high-price insulin over cheaper alternatives.
"People are losing their lives because they can't afford the drug," Bonta said.
Daphne Dorsey, associate director for media relations for Eli Lilly, said the company is "disappointed by the California Attorney General's false accusations." She said the average monthly-out-of-pocket cost for Lilly insulin is $21.80, a 44% decrease over the past five years. She urged anyone paying more than $35 a month for Lilly insulin to contact the company.
A representative for Novo Nordisk declined to comment on the lawsuit. But the company provided background information saying the net prices for its insulin products — the list price minus rebates and discounts — have fallen in each of the past five years "in large part to the significant rebates and discounts manufacturers pay to ensure access for patients."
Mike DeAngelis, executive director of corporate communications for CVS Health, said the manufacturers alone set the list price for their products.
"Nothing in our agreements prevents drug manufacturers from lowering the prices of their insulin products and we would welcome such action," he said. "Allegations that we play any role in determining the prices charged by manufacturers are false. We plan to vigorously defend against this complaint."
A statement from Optum Rx said the company "welcomes the opportunity to show the California Office of the Attorney General, just as it has with other States Attorneys General, how we work every day to provide people with access to affordable drugs, including insulin."
Insulin is made by the pancreas and is used by the human body to convert the food we eat into energy. People who have diabetes don't produce enough insulin. People with Type 1 diabetes must take insulin every day to survive.
A team of Canadian scientists discovered insulin a century ago. They sold the patent to the University of Toronto for just $1, hoping to avoid a monopoly that could cause high prices. But eventually, the market came to be dominated by just three companies.
Kevin Wren, an activist associated with the California chapter of #Insulin4All, said he must take insulin every day to survive. Around 2009, Wren said he was working two jobs and did not have health insurance. He had to ration his insulin, taking less than the recommended dosage to make it last longer — a dangerous practice that he said ended up putting him in the hospital with ketoacidosis, a serious complication of diabetes.
Today, Wren says he has good health insurance and doesn't have to ration his supply of insulin. He said he skirts the law each month by providing people insulin from someone else's prescription "all so that they don't have to ration."
The big insulin manufacturing companies have assistance programs to help people purchase insulin. Novo Nordisk said in 2021 that more than a million people used some form of the company's assistance when purchasing its insulin.
California's state government is considering making its own insulin and selling it at a much cheaper price. Last year, the state Legislature approved $100 million for the project, with $50 million set aside for developing three types of insulin and the rest going to a potential manufacturing facility.
State officials hope a California brand of generic insulin could disrupt the market and bring all insulin prices down. Bonta said he hopes his lawsuit does the same thing.
"California can drive markets," Bonta said, citing the state's size and economic power. "Change emanates and starts here."