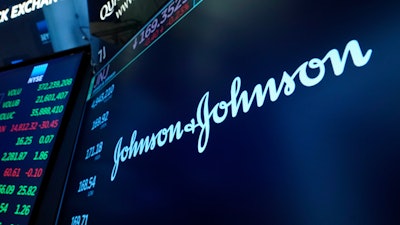 AP Photo/Richard Drew, file
Johnson & Johnson beat earnings expectations in the final quarter of 2022 even as a strong dollar and sinking COVID-19 vaccine sales hurt revenue.
The health care giant also debuted on Tuesday a better-than-expected 2023 earnings forecast.
J&J said fourth-quarter earnings slipped 26% to $3.52 billion and revenue declined 4.4% to $23.71 billion.
Company sales were hurt last year by the strong U.S. dollar, which is currently worth more than a euro. That can affect sales for companies that do a lot of international business. J&J brings in nearly half of its sales from outside the United States.
Companies have to convert international sales into dollars when they report earnings. The stronger dollar decreases the value of those sales.
J&J's international sales fell more than 11% in the quarter, but that decline was only 1% when not counting exchange rates.
J&J also recorded no U.S. sales in the quarter from its one-shot COVID-19 vaccine, which brought in $689 million in revenue from international markets.
The company also booked costs in the fourth quarter for winding down production of the vaccine. U.S. regulators have strictly limited who can receive J&J's shot due to a small risk of rare but serious blood clots.
Johnson & Johnson sells prescription drugs and medical devices. It is splitting off its consumer health business, which includes well-known products like BandAids.
Revenue from pharmaceuticals, the company's largest business, fell 7% to $13.16 billion in the fourth quarter even as worldwide sales of the cancer treatment Darzalex soared nearly 27% to more than $2 billion.
Medical device revenue slipped 1% to about $6.8 billion.
J&J also brought in $3.8 billion in sales from consumer health.
Overall, adjusted earnings totaled $2.35 per share in the fourth quarter.
Analysts expected earnings of $2.23 per share on $23.9 billion in revenue, according to FactSet.
J&J wound up making about $17.9 billion last year on $94.9 billion in revenue. A total of 15 drugs topped $1 billion in sales. That includes top-seller Stelara for psoriasis and other inflammatory disorders. It totaled $9.7 billion in sales.
For 2023, the company expects adjusted earnings of between $10.40 and $10.60 per share. That range starts off well above Wall Street expectations for $10.33 per share.
Shares of New Brunswick, New Jersey-based J&J slipped less than 1% to $166.88 before markets opened Tuesday. in premarket trading.