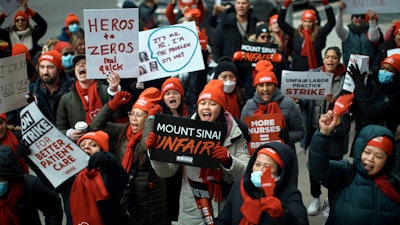 AP Photo/Andres Kudacki, File
NEW YORK (AP) — Nurses who went on strike at two major New York City hospitals this month have ratified the contracts that were hammered out to end the walkout, their union said Tuesday.
The New York State Nurses Association said 98% of nurses at Mount Sinai Hospital and Montefiore Medical Center voted in favor of the contracts. They include raises totaling 19% over three years, commitments to hire more nurses and new provisions to enforce promised staffing levels — including potential fines that would be paid to the nurses if the hospitals fall short, according to the union.
"Although it will take time for nurses and patients to fully implement this victory on the hospital floors, change begins now," NYSNA President Nancy Hagans said in a statement Tuesday.
Montefiore said it was pleased at the ratification and believes "the historic 19% wage increase, greatly enhanced benefits and unprecedented staffing commitments" reflect the hospital's respect for its nurses.
Mount Sinai President Dr. David Reich told staffers in a memo that the newly ratified contract "puts patients first" and said the hospital looks forward "to continuing on our mission to provide safe, compassionate and equitable care."
Together, the hospitals employ over 7,000 union nurses.
Staffing became a major sticking point during the negotiations, with the union saying that constant shortages at the two hospitals harmed patients and nurses alike. The hospitals said they were contending with a national dearth of nurses, exacerbated by the coronavirus pandemic.
The Jan. 9-12 strike followed strikes by six nursing unions, with a total of 32,000 members, in various U.S. locales last year, according to the Bureau of Labor and Statistics.