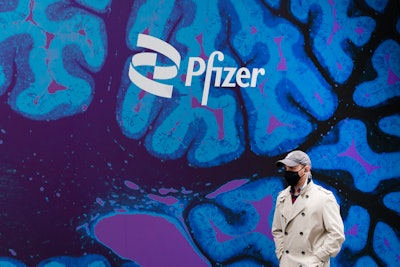 AP Photo/Mark Lennihan, File
Pfizer surprised Wall Street by predicting a bigger-than-expected sales drop this year for two key products: its COVID-19 vaccine and treatment.
The drugmaker also released an earnings forecast that starts off below analyst expectations, sending shares lower after markets opened Tuesday.
Pfizer expects sales of both the vaccine Comirnaty and the treatment Paxlovid to tumble next year before starting to rebound. That drop was anticipated by analysts, but the degree of the expected fall was not.
Pfizer is shifting from supplying government contracts to sales on the commercial market in the United States for both products.
Pfizer said Tuesday that it expects Comirnaty sales to tumble 64% to about $13.5 billion this year. It predicts a 58% drop for Paxlovid to about $8 billion.
That combined total of $21.5 billion falls about $3 billion short of what Wall Street expects from both products.
Overall, Pfizer predicts that adjusted earnings will range between $3.25 and $3.45 per share in the new year.
Analysts forecast earnings of $4.34 per share, according to FactSet.
In the recently completed fourth quarter, Pfizer booked nearly half of its $24.29 billion in revenue from the top-selling COVID-19 vaccine Comirnaty. The company brought in another $1.8 billion from Paxlovid.
Outside Comirnaty and Paxlovid, Pfizer also makes several primary care drugs and cancer treatments. But vaccines have quickly become a key element of its business.
Sales of Pfizer's Prevnar vaccines for preventing pneumonia and related bacterial diseases also climbed 33% in the quarter to about $1.7 billion.
The drugmaker posted overall adjusted earnings of $1.14 per share in the quarter.
Analysts forecast fourth-quarter earnings of $1.05 per share on $24.38 billion in revenue, according to FactSet.
For 2022, Comirnaty brought in $37.8 billion in worldwide sales as the company topped $100 billion in total revenue. Pfizer had 10 products surpass $1 billion in sales.
All that helped Pfizer's full-year profit swell 43% last year to $31.4 billion.
The New York drugmaker books the vast majority of revenue from Comirnaty and splits profit, as well as the cost to make and distribute the vaccine, with development partner BioNTech.
Shares of Pfizer Inc. slid 34 cents to $43.21 Tuesday morning while broader indexes were mixed.
The price of Pfizer shares fell 13% last year while the Dow Jones Industrial Average dropped around 9%.