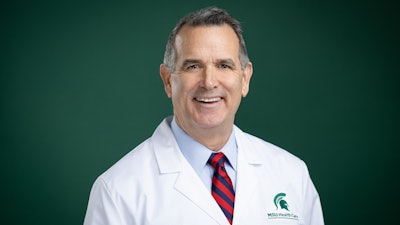 MSU
Michael S. Weiner, DO, MSM, MSIST, has been named as MSU Health Care Chief Medical Officer and will be responsible for advancing excellence in clinical quality, increasing access to care, improving patient outcomes, improving physician and staff retention and wellness while reducing overall health care costs across the enterprise.
He led the transformation the electronic health records platform of the U.S. Department of Defense Veteran Affairs; created the first NATO Joint Trauma Registry and was responsible for the health and wellness of hundreds of employees for global companies.
"Dr. Weiner brings extensive experience as an executive medical leader with a demonstrated history of transforming healthcare organizations. I am excited to welcome him to MSU Health Care and confident his leadership and experience," said Seth Ciabotti, MSU Health Care chief executive officer. "In his first weeks in office, Dr. Weiner has already proven his leadership skills by helping us navigate the shooting and its aftermath."
"I'm excited to join MSU Health Care as their CMO and look forward to collaborating with our providers and others to fulfill our mission of reimagining and delivering next-generation health care," Dr. Weiner said. "I have been impressed by the work MSU Health Care has been doing in delivering innovative care solutions and look forward to continuing this work."
Prior to joining MSU Health Care, Dr. Weiner served as the Chief Medical Officer for Maximus, a public company that contracts with government agencies to make them more accessible and affordable. He was previously CMIO at IBM where he led the healthcare solution teams in infrastructure, analytics, consumer engagement and cognitive computing. Previously, as both CMO and Chief Medical Information Officer for the Department of Defense, his office was responsible for the most significant enhancement to the DoD VA electronic medical record platform increasing national interoperability and agile methodologies. He is a board-certified internal medicine physician skilled in organizational leadership, team building, and delivering repeatable and innovative organizational success.