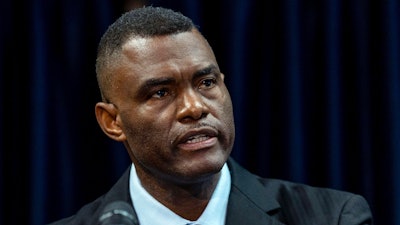 D.A. Varela/Miami Herald via AP, File
ALBANY, N.Y. (AP) — Medical licensing officials in multiple states are scrambling to stop nurses with fraudulent academic credentials from caring for patients, after three Florida schools were accused of selling thousands of bogus diplomas.
New York regulators told 903 nurses in recent weeks to either surrender their licenses or prove they were properly educated. Delaware and Washington state officials have yanked dozens of nursing licenses. Texas filed administrative charges against 23 nurses. More actions in additional states are expected.
In some cases, lawyers for the nurses contend states are questioning the credentials of caregivers who earned diplomas legitimately. But there's wide agreement in the industry that nurses with fraudulent degrees need to be rooted out.
"The public needs to know that when they're the most fragile, when they're sick, when they're in a hospital bed, that the individual who is at their bedside has gone through the required training," said Jennifer Mensik Kennedy, president of the American Nurses Association union.
States are acting in the wake of Operation Nightingale, a federal investigation into what officials say was a wire fraud scheme in which several now-closed Florida nursing schools sold phony nursing diplomas and transcripts from 2016 to 2022. Twenty-five defendants, including school owners and alleged recruiters, have been charged, U.S. Attorney for the Southern District of Florida Markenzy Lapointe announced in late January. Those cases are pending.
About 7,600 students paid an average of $15,000 for bogus diplomas, according to prosecutors. Around 2,400 of those people then passed a licensing exam to obtain jobs as registered nurses and licensed practical nurses or vocational nurses in multiple states, prosecutors say.
How did so many test takers pass without the required classroom and clinical work? In some cases, they were experienced L.P.N.s seeking to become R.N.s. Some had been health care providers in other countries.
The nurses got jobs across the country, including at a hospital in Georgia, Veterans Affairs medical centers in Maryland and New York, a skilled nursing facility in Ohio, and an assisted living facility in New Jersey, according to court filings.
Students came not only from Florida, but also New York, New Jersey, Pennsylvania, Texas and Delaware. Many of the students took their licensing exam in New York, where they can sit it multiple times, according to investigators.
Investigators identified the Florida nursing schools as the Palm Beach School of Nursing; Siena College, a school in Broward County that wasn't related to the college of the same name in New York; and the Sacred Heart International Institute, which was also based in Broward County and had no relation to a university with a similar name in Connecticut.
It was not entirely clear how many of the roughly 2,400 nurses with credentials from these schools are currently employed, or where.
Federal officials shared information so states could pursue nurses with phony academic credentials. Some states have taken action.
The Washington State Nursing Care Quality Assurance Commission rescinded the R.N. licenses of 17 people and denied license applications for four. The Delaware Board of Nursing annulled 26 licenses. The Georgia Board of Nursing asked 22 nurses to voluntarily surrender their licenses.
The 23 nurses facing possible license revocations in Texas can continue working while their disciplinary cases are pending. Texas Board of Nursing general counsel James "Dusty" Johnston said more charges could come as officials develop "the necessary information for each individual."
A spokesperson for Veterans Affairs said it removed 89 nurses "from patient care" nationwide last year immediately after being notified by federal officials. The agency has not found any instances of patients being harmed.
New York's Office of the Professions posted on the state education department's website that it expects some of the 903 licensees who attended the schools "did, in fact, attend required hours and clinicals and are properly licensed." Those people are being asked to have a qualified nursing program submit verification.
Attorneys for some of the nurses in New York and Georgia say nurses who legitimately earned diplomas are getting caught up in the investigation.
"There are obviously people who bought transcripts who are fraudulent and should not be practicing nursing under any circumstances," said Atlanta attorney Hahnah Williams. "But there are also people who went to those schools legitimately and did nothing wrong. And they are somehow being lumped together with the fraudulent nurses."
Williams said her clients are hardworking immigrants who went to schools that were accredited at the time and have since worked for many years without incident.
Similarly, attorney Jordan Fensterman in New York said he has clients who attended classes at one of the schools to finish up their R.N. degrees and then worked during the pandemic. He said those nurses deserve due process now.
The state board actions are taking place as hospitals across the nation try to deal with chronic staffing challenges.
"Hopefully, the number is smaller once the authorities sort things out," said Kennedy, the American Nurses Association president.