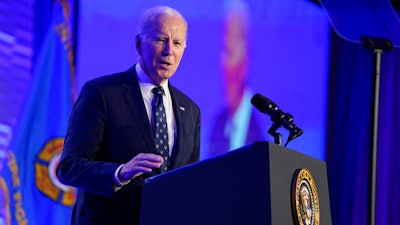 AP Photo/Evan Vucci
WASHINGTON (AP) — President Joe Biden wants to increase taxes to boost funding for Medicare and expand the program's ability to negotiate lower costs for prescription drugs, according to advance details of his budget proposal being released later this week.
The Democratic president outlined his plan in a guest essay in The New York Times on Tuesday, writing that "Medicare is more than a government program. It's the rock-solid guarantee that Americans have counted on to be there for them when they retire."
Biden is scheduled to release his budget proposal on Thursday in Philadelphia. Pushing the proposal through Congress will likely be difficult, with Republicans in control of the House and Democrats with only a slim majority in the Senate.
The Medicare tax rate would rise from 3.8% to 5% on income exceeding $400,000 per year, including salaries and capital gains.
"This modest increase in Medicare contributions from those with the highest incomes will help keep the Medicare program strong for decades to come," Biden writes in the Times.
The plan is also intended to close what the White House describes as loopholes that allow some income to avoid Medicare taxes.
Besides the taxes, Biden wants to expand Medicare's ability to negotiate drug costs, which began with the Inflation Reduction Act. He signed the sweeping legislation last year.
The changes would help shore up a key trust fund that pays for Medicare, which provides health care for older adults. According to the White House, the changes would keep the fund solvent until the 2050s, about 25 years longer than currently expected.
More changes would be made to Medicare benefits. Biden wants to limit cost sharing for some generic drugs to only $2. The idea would lower out-of-pocket costs for treating hypertension, high cholesterol and other ailments.
In addition, the budget would end cost sharing for up to three mental health or behavioral health visits per year.