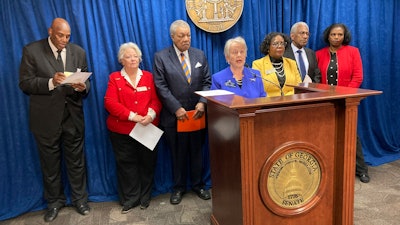 AP Photo/Jeff Amy
ATLANTA (AP) — Democratic Georgia lawmakers, local officials and the NAACP are asking federal officials to investigate a health care system that closed hospitals in downtown Atlanta and a southern suburb, claiming Wellstar Health System has illegally discriminated against Black people and violated its tax-exempt status.
State Sen. Nan Orrock, an Atlanta Democrat, said Wednesday that she and others filed complaints Tuesday with the IRS and the Office of Civil Rights at the U.S. Department of Health and Human Services.
"WellStar should be held to account," Orrock said at a news conference at the Georgia Capitol. "Wellstar should be required to repair the damage that it's caused to this long-established system of care for the individuals formerly served by these facilities."
Based in suburban Marietta, Wellstar last November closed the 450-bed Atlanta Medical Center, a vital health care provider for many low-income residents, just months after closing the smaller Atlanta Medical Center South in East Point. Wellstar had operated both hospitals since 2016 after buying them and others from for-profit operator Tenet Healthcare Corp.
An email seeking comment was sent to a spokesperson for Wellstar. When the system closed the hospitals, it said it had spent more than $350 million to cover losses and make improvements at Atlanta Medical Center, losing $100 million in the year before closing. Wellstar said then that it tried and fail to find governments or others to help with sustainable solutions.
But local officials, including Atlanta Mayor Andre Dickens, angrily replied that Wellstar gave them no notice or chance to help. State and county officials pumped money into Grady Memorial Hospital — a publicly owned safety net hospital blocks away from Atlanta Medical Center — to try to take up the slack. The medical center's closure meant the loss of the city's only other emergency room besides Grady with a highest-level trauma designation and an obstetrics department where many babies were born.
Now, officials want to make Wellstar pay, both legally and financially. Orrock said the nonprofit should make a payment similar to the more than $100 million in stock that Blue Cross Blue Shield of Georgia gave to create the Healthcare Georgia Foundation in 1998 after a lawsuit over its conversion to for-profit status.
"Wellstar knew what they were doing when they took their resources, leaving without looking back, laughing all the way," said Rep. Kim Schofield, an Atlanta Democrat. "It's disgusting, disrespectful, and I'm going to send a message with all of my colleagues that it will not be tolerated."
The complaint to the IRS charges that while Wellstar performed a required community health-needs study under rules for nonprofit hospitals, it failed to implement a strategy to address those needs. Orrock and others cite a 2021 letter from the Atlanta Medical Center's advisory board saying management proposed and discarded a series of "opaque" and "vague" plans to improve operations and finances, showing a "long-term lack of vision and clear direction."
The complaint to Health and Human Services alleges that Wellstar broke federal law by closing two hospitals that served primarily Black populations while continuing to operate hospitals that served richer, whiter people.
"What we're talking about is no more and no less than healthcare redlining on the part of Wellstar," Fulton County Commission Chairman Robb Pitts said. "It means that they've chosen where they will do business and not to do business based on the color of skin and the size of the bank accounts in the ZIP Codes where they're located."
Pitts noted that Wellstar not only closed the hospitals, but closed or relocated physician offices, meaning patients now have long journeys if they want to keep their old doctors.
"Like bandits, they swept up everything that comes along with the hospitals — the clinics, primary care doctors, the specialists, cardiologists, those who treat diabetes, high blood pressure, you name it — packed them up, and took them all away," Pitts said. "They have literally created a health care desert in central and south Fulton County."
Opponents also target Wellstar's negotiations to buy the Augusta University Health System, which operates two hospitals in Augusta. They particularly criticized Wellstar's acquisition of the rights to build a hospital in Augusta's mostly white Columbia County suburbs, and the $105 million that the state is providing to buy a new electronic medical records system for the university's Medical College of Georgia, from which Wellstar would benefit.
"You don't walk away, get yourself in the budget for a hospital over in Columbia County, and turn your backs," Orrock said.