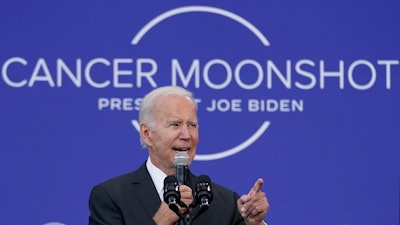 AP Photo/Evan Vucci, File
WASHINGTON (AP) — President Joe Biden is asking Congress for more than $2.8 billion in the federal budget he's sending to Capitol Hill on Thursday to help advance his cancer-fighting goals.
More than half of the money, $1.7 billion, would go to the Department of Health and Human Services to support the Democratic president's cancer initiatives across an array of departments and agencies, according to White House officials, who spoke on the condition of anonymity to share details with The Associated Press before Biden formally unveils his spending blueprint later Thursday in Philadelphia.
The funding request would support a "cancer moonshot' initiative Biden announced last year with the goal of cutting cancer death rates in half over the next 25 years. Biden aims to help close gaps in cancer screenings, better understand and address environmental and toxic exposures associated with certain cancers, and reduce the effects of preventable cancers, such as those linked to tobacco and poor nutrition. The initiative also spends money on cutting-edge research and resources to support patients and their caregivers.
The "moonshot" program was launched in 2016 by President Barack Obama and led by his vice president — Biden. As president, Biden resurrected the initiative last year.
Cancer is personal for Biden and his wife, Jill, as the disease is for millions of people in the United States who have been diagnosed with cancer or have lost loved ones to various forms of the disease. Both the president and the first lady this year had lesions removed from their skin that were determined to be basal cell carcinoma, a common and easily treated form of cancer.
In 2015, the Bidens' eldest son, Beau, died of an aggressive brain cancer at age 46.
While Biden's budget is unlikely to clear Congress untouched, fighting cancer is an issue that Biden hopes can find bipartisan support.
Cancer is among four issues that Biden made part of a "unity agenda" he announced in his 2022 State of the Union address. Veterans, drug abuse and mental health are the other issues. Congress last year passed numerous pieces of legislation to address aspects of the agenda.
In recognition of March as National Colorectal Cancer Awareness Month, the White House on Friday was hosting a discussion with government officials and others on improving outcomes for this particular form of cancer.
Excluding some skin cancers, colorectal cancer is the fourth most-common cancer in men and women and the fourth leading cause of cancer-related deaths in the U.S., according to the Centers for Disease Control and Prevention.
Featured speakers will include Simone Ledward Boseman, the widow of "Black Panther" star Chadwick Boseman, who died in 2020 at age 43 after a four-year battle with colon cancer, and NBC News anchor Craig Melvin, who lost an older brother to the same disease, also at age 43.
Separately on Friday, Jill Biden was scheduled to visit the Louisiana Cancer Research Center in New Orleans with U.S. Sen. Bill Cassidy, R-La., and his wife, Laura, to talk about the president's cancer budget request and highlight the importance of colorectal cancer screenings. The Cassidys are medical doctors.