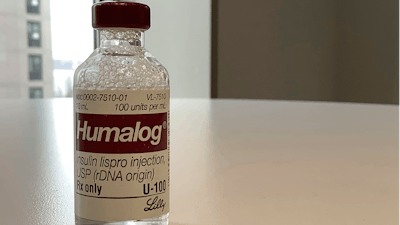 AP Photo/Pablo Salinas
Novo Nordisk will start slashing some U.S. insulin prices up to 75% next year, following a path set earlier this month by rival Eli Lilly.
The Danish drugmaker said Tuesday that pre-filled pens and vials of long- and short-acting insulins will see list price reductions. They include Levemir, Novolin, NovoLog and NovoLog Mix70/30.
Novo also will drop the list price of unbranded products like Insulin Aspart to match the lower price of the branded insulins.
The price cuts go into effect Jan. 1. A vial of NovoLog and NovoLog Mix 70/30 will drop 75% to $72.34 from $289.36. FlexPen options will fall to $139.71 from more than $500.
Levemir and Novolin vials and FlexPens will drop 65% from their current list prices.
Eli Lilly and Co. said March 2 that it will cut the list prices for its most commonly prescribed insulin, Humalog, and for another insulin, Humulin, by 70% or more in the fourth quarter, which starts in October.
List prices are what a drugmaker initially sets for a product and what people who have no insurance or plans with high deductibles are sometimes stuck paying.
Patient advocates have long called for insulin price cuts to help uninsured people who would not be affected by price caps tied to insurance coverage. They have noted that high insulin prices force many people to ration doses, which can be dangerous for their health.
Research has shown that prices for insulin have more than tripled in the last two decades. Pressure is growing on drugmakers to help patients.
Major insulin makers like Lilly and Novo have said they offer patient assistance programs and other help. But Lilly CEO David Ricks noted earlier this month that discounts the drugmaker offers from its list prices often don't reach patients through insurers or pharmacy benefit managers.
The federal government in January started applying a $35 cap on monthly out-of-pocket costs to patients with coverage through its Medicare program for people age 65 and older or those who have certain disabilities or illnesses.
Insulin is made by the pancreas and used by the body to convert food into energy. People who have diabetes don't produce enough insulin. Those with Type 1 diabetes must take insulin every day to survive.
More than 8 million Americans use insulin, according to the American Diabetes Association.
The Wall Street Journal first reported the price cuts Tuesday morning.