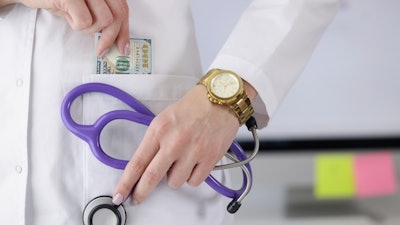 iStock
A federal jury convicted two doctors today for their involvement in a scheme to commit health care fraud.
According to court documents and evidence presented at trial, Dr. William Lawrence Siefert, 69, of Dayton, Ohio, and Dr. Timothy Ehn, 50, of Union, Kentucky, orchestrated their health care fraud scheme through Northern Kentucky Center for Pain Relief, a pain clinic in Florence, Kentucky. Siefert, a medical doctor, was employed by the clinic, and Ehn, a chiropractor, was the clinic's owner. Siefert and Ehn engaged in a scheme to bill Medicaid for millions of dollars in medically unnecessary urinalysis testing for their patients, which included urinalysis testing purportedly conducted on faulty machinery.
Siefert and Ehn were each convicted of health care fraud. Ehn was additionally convicted of conspiracy to commit health care fraud. Siefert and Ehn are both scheduled to be sentenced on Sept. 20. Siefert faces a maximum penalty of 10 years in prison. Ehn faces a maximum penalty of 10 years in prison on each of the health care fraud conspiracy and health care fraud counts. A federal district court judge will determine any sentence after considering the U.S. Sentencing Guidelines and other statutory factors.