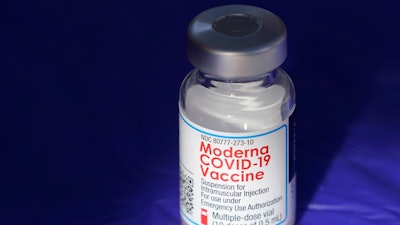 AP Photo/Ted S. Warren, File
Sales of Moderna's COVID-19 vaccine plunged in the first quarter and some expenses soared, but Wall Street expected this and the drugmaker topped expectations.
Moderna said Thursday that revenue from its Spikevax vaccine tumbled to $1.83 billion in the quarter from nearly $6 billion a year ago.
Rival Pfizer also reported a steep sales drop for its COVID-19 shot, Comirnaty, earlier this week. The vaccine makers are shifting to commercial sales this year after selling to the government through huge contracts.
Vaccine sales are expected to sink further in the second quarter, as governments use up their inventory of shots.
Moderna said Thursday that it still was on track to deliver more shots through $5 billion in signed advance purchase agreements for 2023. It also said it was making progress with drugstores, hospitals and government agencies on vaccine contracts for the fall.
The Spikevax vaccine is Moderna's main source of revenue, but the company also is developing other vaccines. They include a potential flu shot and a vaccine for the respiratory illness known as RSV.
Moderna's research and development expenses doubled in the first quarter to $1.1 billion, as the drugmaker spent money on clinical trials for those potential vaccines.
Overall, Moderna's first-quarter net income sank to $79 million from $3.7 billion, and earnings totaled 19 cents per share on $1.86 billion in total revenue.
Analysts had expected a loss of $1.75 per share on $1.18 billion in revenue, according to the data firm FactSet.
Shares of Cambridge, Massachusetts-based Moderna Inc. climbed 3% to $133.97 while broader indexes fell slightly in mid-morning trading Thursday.