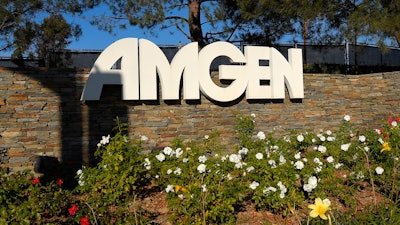 AP Photo/Mark J. Terrill, File
The U.S. is attempting to block a proposed $26 billion acquisition of Horizon Therapeutics by biotech drug developer Amgen on antitrust grounds.
The Federal Trade Commission said Tuesday that the deal, announced in December, would give Amgen unfair leverage to block competition for Horizon medications. The FTC said the deal would entrench Horizon's monopoly position on treatments for thyroid eye disease and chronic refractory gout.
Amgen did not immediately respond to a request by The Associated Press for comment.
The California company said in December that the acquisition would allow it to expand into rare disease treatments.
Horizon Therapeutics PLC, based in Dublin, Ireland, develops potential treatments for autoimmune and severe inflammatory diseases. Its best-seller, Tepezza, is only approved in the United States and treats eye bulging and double vision from thyroid eye disease.
The FTC said Tuesday that the deal would allow Amgen to use rebates on its existing drugs to pressure bill payers like pharmacy benefit managers into favoring Tepezz and Krystexxa, a treatment for chronic refractory gout.