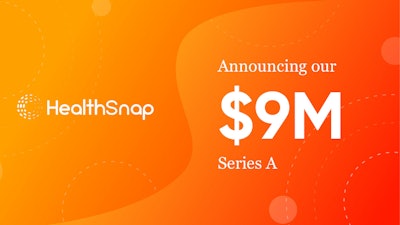 HealthSnap
HealthSnap, a Miami-based virtual care management platform for chronic disease management, today announced a new round of financing totaling $9 million. The round was led by Asclepius Growth Capital, an SPV founded by David Jahns, a managing director of Galen Partners, and Steve Cashman, CEO of Caption Health and former CCO of InTouch Health, as well as new strategic investments from current business partners UnityPoint Health and Tampa General Hospital. Existing stockholders Florida Funders and MacDonald Ventures also participated in this financing. The company also announced that David Jahns has joined HealthSnap's board of directors.
"Over the last several years, we have seen many companies try to crack the RPM and CCM code, and HealthSnap has done just that. HealthSnap's patient-centered approach to virtual care management and its interoperable platform has enabled the company to set itself apart as a market leader. We are proud to lead this latest funding round," Jahns said. Cashman added, "My career in healthcare has been a continued effort to make effective care more efficient and accessible and HealthSnap is making meaningful strides toward this goal."
This latest round of financing, which was oversubscribed, brings HealthSnap's total funding to $17.1 million to date. It will be used by HealthSnap to support a national expansion of its care management services team to support rapid health system adoption and invest in novel clinical use cases. In the last year, to further the company's vision to be the operating system for virtual chronic disease management, HealthSnap successfully expanded its hallmark Remote Patient Monitoring (RPM) program to include a new and complimentary Chronic Care Management (CCM) solution as well.
"Health systems have reached a turning point in their care delivery and population health strategy," said Matthew Warrens, managing director of Innovation at UnityPoint Health. "If we want to continue to provide world-class personalized care at scale, when and where patients want to receive it, we need to continuously invest in novel technology and partnerships that meet patients in their homes. We look forward to collaborating with the HealthSnap team as we scale their remote care delivery models across our health system."
As virtual care management programs like RPM and CCM have increasingly become a top priority for premier health systems and physicians groups across the country, HealthSnap has grown its revenues by over 320% in the last year, more than tripled its number of active patient programs and demonstrated meaningful clinical outcomes across various chronic conditions such as hypertension, heart failure, obesity, and Type II diabetes.
"Implementing technology to monitor our patients from the comfort of their own home can be a highly effective way to avoid costly and unnecessary return visits to the hospital, while vastly improving our patients' satisfaction and ability to manage their care remotely," said Rachel Feinman, vice president of Innovation, Tampa General Hospital and managing director of TGH Innoventures, which provides a coordinated mechanism for the academic medical center to develop innovative solutions to improve quality and access to care. "Tampa General is dedicated to driving innovation to deliver world-class care to patients in the Tampa Bay region and beyond. Our partnership with HealthSnap to manage patients' care more effectively from home is an important part of that effort."
TGH Innoventures also serves as a platform for Tampa General to invest resources and funds into emerging companies that share the academic medical center's vision and can help develop immediate solutions for healthcare access, quality, and delivery.
"HealthSnap's proven virtual care management programs have already flipped the care delivery paradigm for tens of thousands of patients from reactive, episodic care delivered in the clinic to a model that is proactive, ongoing, and delivered in the home — leading to significantly improved outcomes and experiences for patients and providers," said HealthSnap CEO Samson Magid. "Our mission from day one has always been to empower patients living with chronic conditions anytime, anywhere, and this new financing will accelerate our ability to execute that mission for patients across the country."