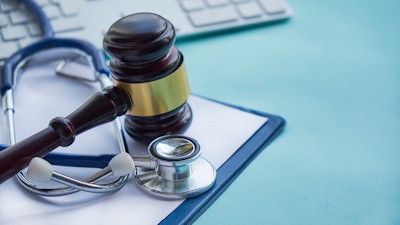 iStock
VHS of Michigan Inc., doing business as, The Detroit Medical Center Inc. (DMC), Vanguard Health Systems Inc. (Vanguard), and Tenet Healthcare Corporation (Tenet), has agreed to pay $29,744,065 to the government to resolve allegations that they violated the False Claims Act by providing kickbacks to certain referring physicians.
DMC operates hospitals in and around Detroit, including Sinai Grace Hospital and Harper University Hospital. In October 2013, Tenet acquired Vanguard owned-and-operated hospitals and outpatient facilities, including DMC.
The settlement announced today resolves the government's allegations that DMC, Vanguard, and Tenet caused the submission of false or fraudulent claims to Medicare. Specifically, the government alleged that from Jan. 1, 2014, through Dec. 31, 2017, Sinai Grace Hospital and Harper University Hospital provided the services of DMC-employed mid-level practitioners to 13 physicians at no cost or below fair market value in violation of the Anti-Kickback Statute (AKS). The government further alleged that the physicians were selected because of their large number of patient referrals to Sinai Grace Hospital and Harper University Hospital and that the purpose of these arrangements was to induce the physicians to refer additional Medicare patients to DMC facilities.
The AKS prohibits offering, paying, soliciting, or receiving remuneration to induce referrals of items or services covered by Medicare and other federally funded programs. The statute is intended to ensure that medical providers' judgments are not compromised by improper financial incentives and are instead based on the best interests of their patients.
"The Justice Department will pursue improper arrangements that have the potential to compromise physicians' medical judgment," said Deputy Assistant Attorney General Michael D. Granston of the Justice Department's Civil Division. "Physicians should evaluate where to send patients for medical services based on the quality of care the patients will receive, not the financial benefits that the physicians will reap."
"This outcome makes clear that when doctors refer patients for care at hospitals, they must do so based on their own professional judgment and the medical needs of their patients, not personal financial benefit," said U.S. Attorney Dawn N. Ison for the Eastern District of Michigan. "Our office stands ready to scrutinize even the most complicated financial arrangements and to pursue justice wherever appropriate."
"Paying and accepting kickbacks encourages providers to put personal financial gain before the needs of their patients," said Special Agent in Charge Mario Pinto of the Department of Health and Human Services Office of Inspector General (HHS-OIG). "As this case demonstrates, those who enter into such improper arrangements and put the safety of their patients at risk will be held accountable."
The civil settlement includes the resolution of claims brought under the qui tam or whistleblower provisions of the False Claims Act by Dr. Jay Meythaler, a former employee of Wayne State University Medical School, which is affiliated with DMC. Under those provisions, a private party can file an action on behalf of the United States and receive a portion of any recovery. In this case, Dr. Meythaler will receive $5,205,211.37 as part of the settlement.