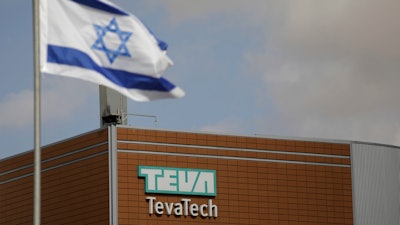 AP Photo/Tsafrir Abayov, File
WASHINGTON (AP) — The generic drug maker Teva Pharmaceuticals agreed Monday to pay $225 million to settle price-fixing charges related to sales of a major cholesterol-lowering drug. The U.S. Department of Justice said the agreement also requires Teva to divest its business making and selling the drug, pravastatin, a generic version of the brand-name medicine Pravachol.
Another generic drug maker, Glenmark Pharmaceuticals, agreed to pay a $30 million criminal penalty and to divest its pravastatin business as well.
In a statement, the U.S. arm of Israel-based Teva blamed a single former employee for striking agreements with Teva competitors that limited competition between 2013 and 2015. That employee left the company in 2016, Teva said.
DOJ had charged seven generic drug makers, including Teva and Glenmark, with price fixing, bid rigging and market allocation schemes. The seven companies have settled their cases with deferred prosecution agreements. Had any of the cases gone to trial, guilty verdicts could have led to mandatory bans from participation in Medicare, Medicaid and other federal health programs.
The companies collectively agreed to pay $681 million in fines in addition to other penalties.