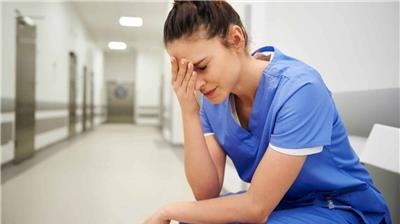 Wealth of Geeks
During the height of the pandemic, one out of every five healthcare workers quit their jobs. Even more experienced tiredness, burnout, and deep frustration.
Few industries are completely immune to the effects of employee burnout or mandatory retirements, but the healthcare industry has been especially hard-hit in recent years. A 2021 study by Morning Consult found the COVID-19 pandemic only exacerbated the situation.
Another study conducted in 2022 by the Mayo Clinic determined that 63% of the participating physicians experienced feelings of job burnout over that same time period.
A One-Two Punch For The Healthcare Industry
While job burnout and mandatory retirement may appear to be two separate challenges, there is a symbiotic relationship. Entry-level healthcare workers, especially nurses and therapists, are often assigned to the most stressful hands-on assignments of direct patient care. The long shifts and exhausting duties lead to an overwhelming sense of job burnout, and the result is a wave of resignations and transfer requests.
This attrition rate shifts the workload to older, more experienced healthcare staff, who are less likely to abandon their posts but are also reaching mandatory retirement age. When they do retire, there is not always a younger generation of workers prepared to take their place. Burnout and retirement are indeed a one-two punch for the healthcare industry.
Another 2022 study found that 20% of doctors admitted they were likely to leave their current practice within two years. Again, burnout and workload are two major reasons.
JayDee Vykoukal, Doctor of Physical Therapy at Health Means Wealth, says, "Healthcare worker shortages definitely contribute to burnout. It leaves such a burden on professionals attempting to help their patients. Ironically, where there are shortages, there is often better pay- so many people get sucked into toxic work environments where they are overworked and unappreciated."
Vykoukal adds, "For example, as a physical therapist who left the field several years ago, it was emotionally exhausting to persevere under a growing amount of paperwork that limited my ability to interact with my patients. High turnover at the nursing home where I worked also meant I was juggling a much higher patient load than I should've been. Ultimately, walking way to set my own work hours from home and not get stuck behind a bunch of red tape for mediocre pay was totally worth it."
The Battle In The Nursing Trenches
The Federal Bureau of Labor Statistics projects the U.S. will face a shortage of 195,400 nurses by the year 2031, and the number of openings for home health aides and personal health aides will grow 37 percent by 2028.
The nursing profession as a whole experienced an unprecedented shift following the pandemic. More experienced healthcare workers chose to become independent "traveling nurses" rather than remain employed by public institutions with limited budgets and few opportunities for career advancement. With fewer nursing school graduates entering the field, the cycle of stress, burnout, transfer, and retirement is likely to continue for decades.
Primary Care Physicians At Career Crossroads
According to a report from the Association of American Medical Colleges, the United States is also expected to experience a shortage of up to 124,000 physicians in the next 12 years. This includes a shortfall of between 17,800 and 48,000 primary care physicians, which will definitely have an impact on the quality and availability of direct patient care.
One factor leading to job burnout among physicians is the volume of administrative tasks and paperwork involved with the position. An average primary care physician spends 15.5 hours a week on administrative chores, with some specialists clocking almost 20 hours a week. on paperwork, according to the 2023 Medscape Physician Compensation Report.
The Elderly Population Is At the Greatest Risk
According to U.S. Census Bureau data, there are currently over 65 million elderly residents, and that number is expected to reach 77 million by 2034. This age group is at a much higher risk for chronic health conditions, from sciatica and bursitis to heart disease and cancer. A shortage of physical therapists, home health nurses, pharmacists, and primary care physicians would be devastating for this vulnerable population.
Does The Solution Lie In Political Action?
While healthcare industry professionals and medical training programs continue their efforts to recruit, train, and employ a new generation of healthcare workers, these efforts could be in vain if the underlying causes of job burnout and disinterest are not addressed. Many institutions are stepping up their game with major adjustments to staffing and wage policies, but a workable solution also involves legislative changes.
The Resident Physician Shortage Reduction Act of 2023 is one such step. The proposed law would lift the current cap on the number of applicants a residency program can accept. More residents translates to a larger population of entry-level physicians prepared to assume positions currently held by older professionals.
Another bill, the Conrad State 30 and Physician Access Reauthorization Act, would allow licensed physicians from other countries to remain in the U.S. after residency with the condition they practice in areas with recognized medical care shortages. This new policy would provide an incentive for international physicians to relocate to the United States and provide better healthcare for underserved rural areas of the country.
This article was produced by Media Decision and syndicated by Wealth of Geeks.