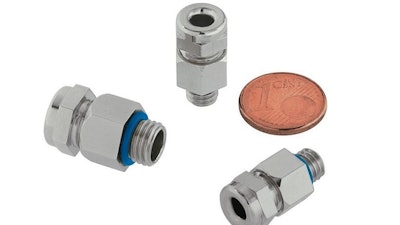 LAPP North America (Morristown, NJ) is proud to announce its expanded family of SKINTOP MINI cable glands.
The extended SKINTOP MINI range includes two- to seven-millimeter diameter glands, allowing system designers to obtain protective, secure seals for their small-diameter cables while reducing cable density in their networked devices.
Features and benefits include:
Low height for high-density packing.

Robust, nickel-plated brass construction.

Wide temperature range of -60 to +200°C.

IP68 protection for harsh environmental conditions.
LAPP's SKINTOP MINI cable glands are ideal for the medical device, pharmaceutical and automotive manufacturing industries.