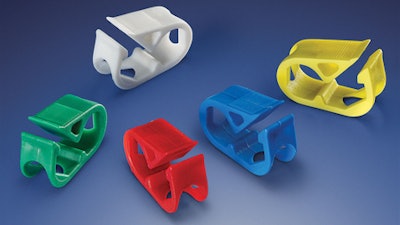 Qosina
Qosina, a global supplier of OEM single-use components to the medical and pharmaceutical industries, introduced a new selection of pinch clamps made from polybutylene terephthalate (PBT), an alternative to nylon that is used in the manufacture of many types of single-use components.
The 3/4 inch (0.75 inch, 19mm) pinch clamps are now available in white (#25659), red (#25154), yellow (#25152), blue (#25156) and black (#25153).
One-handed closure—no tools needed
Materials meet USP Class VI and ISO 10993 criteria
Tamper-evident and zip-tie compatible
Gamma and autoclave compatible
Audible clicks when securely connected
Color-coded to distinguish between different fluid lines
Qosina has doubled its portfolio of pinch clamps over the last two years and now offers more than 125 options available in eight colors and various sizes, styles and materials. These clamps are available to fit tubing dimensions of various ODs ranging from 0.059 inch (1.5 mm) to 0.75 inch (19 mm).