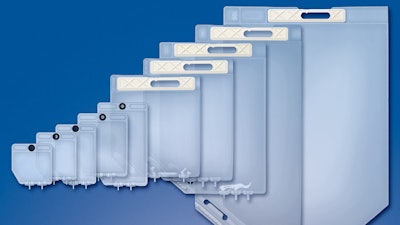 Qosina
Qosina, a global supplier of OEM single-use components to the medical and pharmaceutical industries, is pleased to announce a partnership with ILC Dover, a provider of design and production of solutions for biopharmaceutical, pharmaceutical and medical device markets.
ILC Dover has partnered with Qosina to ensure assurance of supply of their single-use bioprocess systems by leveraging Qosina's extensive selection and inventory of bioprocess components, focus on business continuity, consistent quality, change control and corporate social responsibility. ILC Dover has secured its component supply to rapidly respond to customer demand and aggressive timelines by outsourcing their supply chain operations to Qosina.
In conjunction with this new partnership, Qosina has expanded its product portfolio to include liquid single-use chamber bags from ILC Dover. These high-performance fluid storage and transfer chambers with optimized reliability, throughput and quality assurance for upstream and downstream bioprocessing applications are the perfect addition to the Qosina line.
The liquid bag chambers feature a TruFLO port design, which facilitates optimized edge-seal integrity and superior flow rates. The low-profile design coupled with the internal funnel shape maximizes product recovery. All liquid single-use chambers are manufactured with industry-proven, medical-grade Renolit 9101 film, a multilayer film composed of a high-purity biocompatible polyethylene (PE) contact layer with internal ethylene vinyl alcohol (EVOH) oxygen barrier and an extremely low extractables and leachables profile. This film provides superior clarity, flexibility and strength, offers resistance to a wide range of chemicals, and is stable in a temperature range of -45°C to 60°C.
Available configurations range from 50 ml to 50 liters in a 2- or 3-port design. Improved handling designs include a robust hanging grommet for smaller sizes (50 ml – 1 liter) and reinforced, ergonomic handles for larger sizes (2 liter – 50 liter).
Qosina is a one-stop source for single-use bioprocess components, with low minimum order quantities, a liberal sampling policy and bill of material kitting, all supported by regulatory documentation and backed by Qosina's assurance of supply.