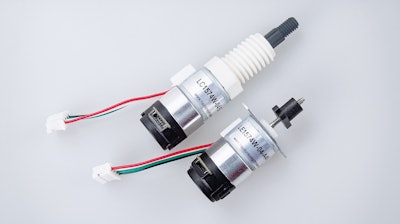 Ametek Haydon Kerk Pittman
Ametek Haydon Kerk Pittman, a division of Ametek, has announced that the 15000 Series stepper motor linear actuator, known as the LC15/LE15, is now available with an encoder option. Features include:
Availability in captive and linear versions.
Resolutions ranging from 0.02 millimeter to 0.10 millimeter per step.
Force of up to 8 pounds (35N).
The ability to be micro-stepped for finer resolution.
Closed-loop control.
Applicability in medical automation and other automated devices requiring precise, remote-controlled linear movements in a small package.
For more information, visit https://www.haydonkerkpittman.com/products/linear-actuators/can-stack-stepper/15mm-15000.