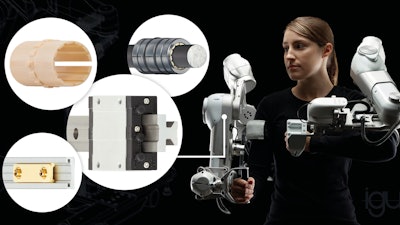 igus
Many stroke patients worldwide suffer from hemiplegia, or partial paralysis, and exoskeletons such as Harmony from Harmonic Bionics can help rebuild the nerve tracts in arms and shoulders. To adapt the robot-supported system to different body sizes in physiotherapy, the developers rely on the lightweight, self-lubricating plain bearing technology from igus.
Every year, 16 million people worldwide suffer a stroke. To help patients with rehabilitation during physiotherapy, the Austin Texas-based company Harmonic Bionics, with the support of the National Science Foundation, has developed a robotic exoskeleton especially designed for healing muscle damage. The robot, named Harmony, relieves the shoulder joint and maximizes the patient's range of motion. In this way, the system enables a more natural and comprehensive therapy for the arms.
For this, Harmony relies on Bilateral Sync Therapy (BST). The robot registers the healthy arm movements and synchronizes them to the side affected by the stroke in order to help restore the nerve tracts. In order for the exoskeleton to move with the human body, the robot axis must be correctly adapted to the patient, because incorrect setting can lead to injuries to the joints. For a quick adaptation of Harmony, the developers resorted to linear guides and plain bearings from motion plastics specialist igus.
The drylin T and R series rail guides, drylin R linear bearings, and iglide plain bearings enable adjustment of the system to the patient's height, arm length, and shoulder width. The polymer bearings made of iglide J are distinguished by their high wear resistance and long service life. As there is no need for external lubricants, the bearings are maintenance-free, clean, hygienic, and suited for medical technology. All components are made of lightweight materials such as plastic and aluminum. The design is compact so that it can be integrated into the slim design of the robot.