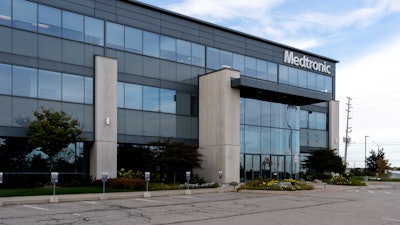 iStock
Medtronic has issued a warning to physicians and healthcare providers regarding its HeartWare ventricular assist device system after problems may have caused multiple patient deaths.
The company said it has received three complaints of patients with suspicion of pump thrombosis and that a device malfunction was identified upon inspection of the three returned pumps. Wear marks indicated that the impeller was rotating non-concentrically and contacting the center post of the pump.
"The ongoing investigation suggests this was caused by a weld defect that allowed moisture into the center post and corroded the magnets that keep the impeller rotating concentrically," the company wrote in a letter.
The three pumps were manufactured between December 2017 and May 2018. A pump exchange was performed for all three patients.
Medtronic said the time between initial presentation and pump exchange was five days for two patients and five months for one patient. One patient was subsequently transplanted two months after the pump exchange and died one month later, while one additional patient died three weeks after the VAD exchange.
"An active investigation is in progress to identify which HVAD pumps may be affected. At this time Medtronic is communicating the potential of this failure mode to all healthcare providers who implant and manage HVADs, and will issue additional, detailed communication as soon as further information is available," the company wrote.
The company has issued potential warning signs for affected including:
Abnormal pump sounds such as: grinding or excess vibration

Transient power spikes on the log files and High Watt alarms

Elevated lactate dehydrogenase (LDH)

Low motor speed resulting in low perfusion

Dizziness / lightheadedness