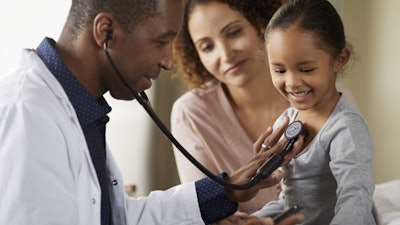 3M
3M Littmann recently announced that its CORE Digital Stethoscope received honorable mention accolades in the health category of the 2022 Fast Company World Changing Ideas global awards program recognizing companies, products and initiatives that support innovation for the public good and tackle social inequality, climate change and public health crises.
Currently available in 21 countries, the stethoscope was released in October 2020. The design marries 3M tech with digital innovations from Eko, a digital health company advancing heart and lung disease detection. Benefits to clinicians include:
Sound amplification up to 40 times -- at peak frequency versus analog -- to help health care providers with different hearing abilities and identify hard to hear body noises.
Active noise cancellation to help reduce distracting background sounds for those working in noisy environments.
Easy one-button toggling between analog and digital amplification modes to suit the clinician's listening needs. Also includes two tunable diaphragms -- adult and pediatric – that allow users to listen for both high and low frequency sounds without repositioning the chest piece.
Visualization of sound data during auscultation. The ability to see the pathology is another tool to help clinicians with diagnoses.
HIPAA compliant means to save and annotate 15-, 30-, 60- or 120-second recordings in a secure dashboard. Also enables clinicians to create a library of heart sounds to monitor the progression of a disease, for education, or to securely share recordings with colleagues.
Analysis of heart sounds to aid in the detection of the presence of suspected heart murmurs in seconds with Eko's FDA-cleared and clinically-proven AI algorithm.
Now in its sixth year, the World Changing Ideas Awards showcase 39 winners, 350 finalists and more than 600 honorable mentions, with climate, social justice, and AI and data among the most popular categories.
A panel of Fast Company editors and reporters selected winners and finalists from a pool of almost 3,000 entries across transportation, education, food, politics, technology, health and social justice.