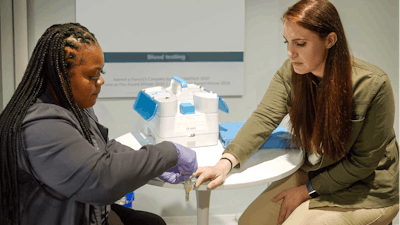 BD
Babson Diagnostics and Becton, Dickinson and Company (BD) yesterday announced the expansion of a strategic partnership to move blood sample collection into new care settings, including enabling patients to collect blood samples at home for diagnostic testing.
Since 2019, the two companies have collaborated to create a capillary blood collection and testing system, now in advanced development, to enable laboratory-quality, small-volume capillary blood collection at retail settings by team members with no previous experience in blood collection.
Plans under the expanded agreement include continuing research and development to enable self-collection, mobile services and at-home collection. Babson and BD also will expand the types of blood tests that are possible through small-volume blood collection beyond primary care-oriented tests, and they also plan to develop diagnostic tests for pediatric use.
Over this long-term collaboration, Babson and BD are advancing development of the blood testing ecosystem, which includes BD's next generation capillary collection technology and Babson's proprietary automated sample-handling and analytical technologies. These have been designed to work together to enable blood testing that requires only one-tenth the sample volume of traditional venipuncture methods without sacrificing quality, accuracy, or the number and types of tests that are possible.
"This is a paradigm-shifting solution that addresses multiple unmet needs within the current health care system," said Brooke Story, president of Integrated Diagnostics Solutions for BD.
BD will continue to lean on its specimen management experience. The state-of-the-art capillary collection device is an investigational device under 21 C.F.R. 812 and requires additional studies to make any definitive conclusions about safety or efficacy.
Babson is building an ecosystem for blood collection in the pharmacy setting as well as designing the systems and workflows to analyze small volume capillary blood in a central lab. Babson will continues to work with local and national pharmacy chains to conduct extensive clinical studies of its service platform in preparation for commercial launch.