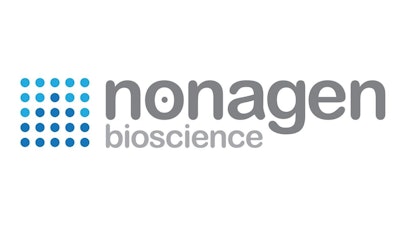 Nonagen Bioscience, a cancer diagnostics company, today announced CE marking for its Oncuria immunoassay for bladder cancer.
Oncuria is the first-of-its-kind multiplex urine test for the quantitative detection of 10 biomarkers in urine that are associated with the presence of bladder cancer.
Bladder cancer is the tenth most diagnosed cancer in the world, with approximately 573,000 newly diagnosed cases worldwide each year.1
Bladder cancer is also highly recurrent. In fact, up to 77% of early-stage bladder tumors treated with current approaches (tumor resection and/or intravesical bacillus Calmette-Guérin [BCG] or chemotherapy) will recur.2
Oncuria now bears the CE marking and is registered under the EU In Vitro Diagnostic Directive (IVDD), EU Directive 98/79/EC, which allows Nonagen to sell the diagnostic in the European market.
"The CE mark demonstrates the quality of the Oncuria test, which reflects years of rigorous clinical development by an exceptional team," said Charles J. Rosser, MD, MBA, chief executive officer and chief medical officer at Nonagen Bioscience. "This is a significant first step on the path to the global commercialization of Oncuria."
Nonagen Bioscience is targeting a United States launch of Oncuria in the last quarter of 2022, followed soon after by a European launch of Oncuria as an IVDD. Pending US Food and Drug Administration approval, Nonagen Bioscience intends to make Oncuria available as an in vitro diagnostic.
1. Sung H, Ferlay J, Siegel RL, et al. Global cancer statistics 2020: GLOBOCAN estimates of incidence and mortality worldwide for 36 cancers in 185 countries. CA Cancer J Clin. 2021;71(3):209-249. doi:10.3322/caac.21660
2. Witjes JA. Management of BCG failures in superficial bladder cancer: a review. Eur Urol. 2006;49(5):790-797. doi:10.1016/j.eururo.2006.01.017
3. Hirasawa Y, Pagano I, Chen R, et al. Diagnostic performance of Oncuria™, a urinalysis test for bladder cancer. J Transl Med. 2021;19(1):141. doi:10.1186/s12967-021-02796-4