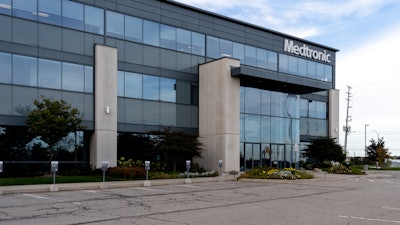 iStock
Medtronic said its board of directors appointed Lidia Fonseca, Executive Vice President, Chief Digital and Technology Officer at Pfizer, to the board as an independent director, effective June 27, 2022. Fonseca will serve on the Compensation Committee and Science and Technology Committee of the board.
"We are thrilled to welcome Lidia to Medtronic's Board of Directors," said Geoff Martha, Medtronic chairman and chief executive officer. "She has an impressive history of developing digital healthcare solutions that deliver powerful insights to improve patients' lives. Her extensive knowledge and expertise will provide the Board with an important dimension and a tremendously valuable perspective as we drive toward our bold ambition to become the global leader in healthcare technology."
Fonseca has more than 30 years of experience in healthcare innovation. In her current role, she is responsible for developing and implementing an enterprise-wide digital strategy, leading all digital, data and technology solutions across the company. She is also responsible for Pfizer Learning and Development and Business Process Excellence.
She also spearheads several programs and initiatives, including those that digitize drug discovery and development; improve health outcomes and patient experiences through digital health, medicines, and diagnostics; advance operational processes through automation and robotics; and deliver powerful insights with advanced analytics and artificial intelligence (AI) for better decision-making.
Most recently, Fonseca led Pfizer's digital team as the company made efforts to help accelerate the development of a COVID-19 vaccine in less than a year. She also led the efforts to create Pfizer's Advanced Analytics Platform that combines data and tools from Pfizer and its external partners to model scientific and clinical decisions, patterns, and insights.