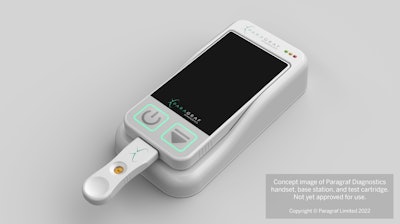 Paragraf
Paragraf plans to develop a new generation of graphene-based, in-vitro diagnostic products that will give results within a few minutes.
The Cambridgeshire-based company is starting a two-year program to develop a proof-of-concept combined PCT (procalcitonin) and CRP (C-reactive protein) test, on a single panel. This collaboration utilizes a GBP £550,000 Biomedical Catalyst grant award from Innovate UK, the UK's innovation agency.
Paragraf is collaborating with the Universities of Liverpool, Manchester and Newcastle, Newcastle upon Tyne Hospitals NHS Foundation Trust and Manchester University NHS Foundation Trust (MFT), on the development.
A clinical study of the combined PCT/CRP test will be delivered at MFT's Diagnostics and Technology Accelerator (DiTA) in mid-2023. DiTA aims to address unmet needs, transform patient care and improve efficiency within the NHS, by facilitating the rapid translation and adoption of new innovations into the health and care system. The project is expected to be completed by the end of May 2024.
Paragraf raised $60 million in Series B financing announced on March 1, 2022.