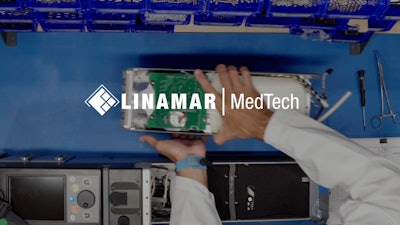 Linamar Corporation announced today its iHub production site has received ISO 13485 certification for medical device production. The achievement is a critical milestone for the company's recently announced MedTech group, clearing the way to Linamar becoming a supplier to the global medical device markets.             
ISO 13485:2016 is an internationally recognized standard of quality and safety for the medical device industry. The management system standard ensures that an organization meets the regulatory requirements specific to the design, manufacture, assembly and distribution of medical devices.
The Linamar iHub, located in Guelph, Ontario, Canada, is the first of Linamar's global facilities to obtain the medical device specific certification from the Internal Standards Organization (ISO). This facility led the initial response to the COVID-19 outbreak, urgently scaling up production efforts to support the manufacture of lifesaving ventilators and critical medical supplies. The facility is also focused on Innovation for the future, incubating new technologies and ideas around process and product innovation supporting the company's rapid evolution into advanced manufacturing.
Linamar MedTech is the newest division of Linamar Corporation and is focused on contract manufacturing of complex medical device assemblies as well as precision machined medical components.