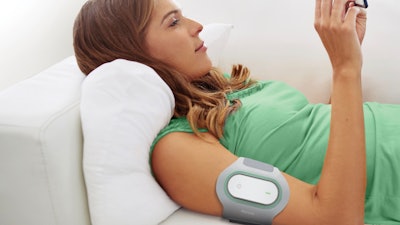 Theranica
Theranica, a prescribed digital therapeutics company developing advanced neuromodulation devices for migraine and other idiopathic pain conditions, closed a Series C funding round totaling $45 million.
Nerivio is an FDA-cleared, prescribed, smartphone-controlled wearable device for the treatment of episodic and chronic migraine in people aged 12 and older. Worn on the upper arm at the onset of a migraine attack, Nerivio alleviates migraine headache and associated symptoms by utilizing remote electrical neuromodulation to trigger an endogenous analgesic mechanism, known as conditioned pain modulation.
"In spite of several decades of new medications, millions of individuals still suffer from frequent debilitating migraine headaches," said Alon Ironi, CEO of Theranica. "Over the last couple of years, we have verified the three fundamental conditions of a successful new prescribed therapy in the U.S.: healthcare providers have confidence in prescribing our Nerivio for treating migraine, patients get significant clinical benefit from using it, and Payors realize the importance of providing their insured members with access to this therapy. With this triad demonstrated, we needed the appropriate funding to unleash the huge potential of Nerivio in the U.S."
Eligible for insurance coverage and available to patients seeking cost-effective drug-free therapies for migraine, Nerivio can be prescribed by any certified healthcare provider in the U.S. and is shipped to patients' homes through several specialty pharmacies.