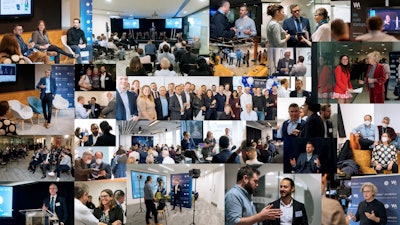 GE
Seven healthtech start-ups have officially been named as the second cohort of the Edison Accelerator in EMEA Europe, the Middle East and Africa.
Edison Accelerator is a healthcare start-up and scale-up acceleration and healthcare provider collaboration program designed by GE Healthcare, in partnership with Wayra UK, an innovation organization.
The healthcare industry is evolving like never before and these start-ups will work on innovative solutions to solve major problems and help clinicians make better decisions, all while giving patients an improved experience as they move along their healthcare journey.
Over the next six months the seven start-ups will gain access to GE Healthcare solutions and integrations, as well as access to healthcare providers to test their products innovations on existing workflows and technologies. This will help to develop, integrate and commercialize digital solutions. The winning companies this year are from four countries:
Alertive (UK): Alertive is a tech company that builds mobile and desktop applications that simplify teamwork for critical care workers, connecting them with relevant colleagues and the patient information required to make decisions, at the point of care.
xWave (UK): xWave Technologies was founded in 2020 in Ireland by a leading group of radiologists who wanted to create intelligent solutions for the problems they were facing in their day-to-day work.
Idoven (Spain): Idoven is a healthtech company advancing early detection and precision medicine for cardiovascular diseases. Idoven's AI platform delivers sustainable improvement s to the speed, consistency, and accuracy of electrocardiogram interpretation, as well as new prediction capabilities.
Nurea (France): Nurea, a French startup, specializes in designing and engineering SaMD. With the aim of simplifying physicians' decision-making processes and patient-follow up, the company is working on helping radiologists and surgeons by accelerating their workflow by 60% by standardizing medical image interpretation and thus preventing accidents.
Metalynx (UK): Metalynx provides a software visualization platform enabling subject matter experts to develop and evaluate computer vision applications without technical training. It bridges the gap between the data domain expertise and the technical expertise needed to build robust, trustworthy AI.
Clinithink (UK): Clinithink is a technology company built around CLiX, the world's first Healthcare AI capable of truly understanding unstructured medical notes. CLiX can read, understand and extrapolate from the meandering mass of deductions, hunches, opinions and observations that doctors use to describe conditions in real life.
KOSA AI (The Netherlands): KOSA AI is a software tech company that builds AI governance software tools that audit, explain and monitor bias and risks throughout the MR/AI lifecycle of a product. KOSA AI supports healthcare organizations to generate more inclusive and people-centered outcomes, improving trust, efficiency and utility of AI.
Over the next six months, the startups will be presented to a network of investors, potential business partners and customers, who could help take their companies to the next level. Subject to applicable regulatory authorizations, successful applications may also have the opportunity to be distributed through the GE Healthcare Marketplace after culmination of relevant steps that include commercial distribution agreements.
The GE Healthcare Marketplace is the company's online store that allows customers to find and buy applications and algorithms from a range of third-party developers that can be integrated within clinical and operational workflows to help healthcare providers improve outcomes for patients.
The second cohort builds on the strong foundation built by the Accelerator's inaugural class. The six start-ups of the first cohort have already seen tangible success. Since the close of the program in 2021, four of the start-ups have started commercial onboarding with GE Healthcare.